Community members rally for adoption fees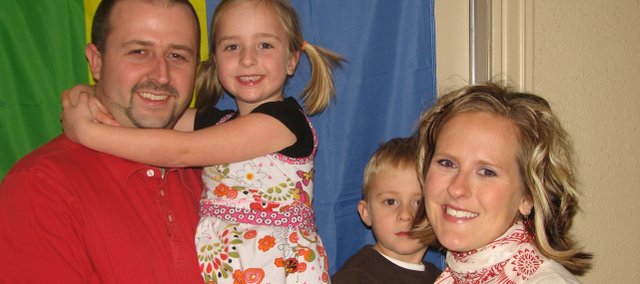 A Basehor family will soon bring home two new family members from across the world.
Ryan and Kara Higgins are adopting two children from Rwanda, Africa, and they moved a step closer to making that happen on Saturday night.
The couple, along with their two biological children, Molly and Blake, played host to a benefit dinner with a silent auction Saturday at the Eagle Ranch Banquet Hall in Bonner Springs to raise funds for the adoption fees.
Free-will donations and the money from the silent auction totaled more than $5,500. The complete cost of adopting the two children is about $29,000, Kara Higgins said, and the family was hoping to raise $3,300 at the dinner. The Higgins will use this money to mail the adoption court papers, pay for passports and visas and for some additional final costs.
"It was amazing," Kara Higgins said. "We had about 150 people show up, and we ended up with so much more than expected. We're thrilled."
Kara said that her and her husband always knew they wanted to adopt children from a foreign country. In the past, they traveled to several countries where they saw extremely poor living conditions, and it inspired them to move forward with an adoption.
"We witnessed it first-hand," Kara said, "And we wanted to save a few kids from that life."
In 1994, Kara said, the country of Rwanda experienced a three-month genocide during which more than 1 million people were killed.
"A quarter of the households there are still being run by children," she said. "It's just awful, and we wanted to help."
Kara's two pregnancies were both high-risk, but her and Ryan still wanted to have two more kids. They saw adoption as the perfect way to complete their family, Kara said.
The Higgins requested to adopt two children under the age of three, but they won't know the identities of the children for another three months. They will mail the court papers this week, and will receive the children's biographies after that.
"We're really excited to find out about them and who they are," Kara said.
Five-year-old Molly and three-year-old Blake are eager to have two new siblings.
"I'm excited because I will get to share my room," Blake said.
Molly said she wanted to show her new brothers or sisters the ropes at a favorite restaurant.
"I'm going to teach them how to go down the slide at McDonalds," she said.
Aside from the benefit dinner, the Higgins raised money for the adoption through pizza sales at their church, Trinity Lutheran, and through donations from members of the community.
"It has been so stress-free," Kara said. "We were worried about the cost because we don't have a lot of extra money lying around, but whenever we needed money, it somehow came to us. We felt so strongly that this was the right time to do this, and we're so happy that it's working out and so thankful for everyone's support."
For more information about the Higgins family adoption, or to make a donation to help the family, go to higginsadoption.blogspot.com.