Council member seeks mayor spot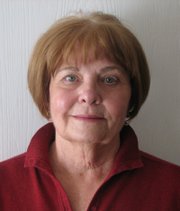 Basehor City Council President Iris Dysart is taking tips from the past and looking toward the future with her mayoral campaign.
Dysart has been on the city council since 2003. She said that her past experience as a city council member and as council president would be beneficial to her throughout the campaign and as mayor, if she were elected.
This experience, Dysart said, would give her the insight to deal with Basehor's current issues and to lead the city to future success.
"For nearly six years, my position as a council member has afforded me a firm grasp on municipal governing," Dysart said. "The knowledge I've acquired will guide decisions in taking our city in a direction that will best serve the needs of our community now and pave the way to appropriately build the growing city we all want."
Dysart moved to Basehor in 1996, and she has been a resident of Leavenworth County for 30 years. She said she had always been interested in city affairs, and she regularly attended Basehor City Council meetings before she decided to run for the council.
When she was elected in 2003, Dysart said, she found out quickly that she was on a learning curve.
"It was difficult in the beginning," she said. "But I dove right in, and I loved it. The learning challenge the past six years and the value that I place on the knowledge of the city government, I equate with my important life experiences."
Dysart said that since she started her first term on the council, she had seen many positive changes take place inside the city. She said she was proud of the way the city was growing and proud of several of its recent projects, including the new library, the intermediate school off 155th and Hickory streets and the Wolf Creek grocery store.
"I was so glad to see the new library, and the school is just extraordinary," Dysart said. "I also would love to see the grocery store and that whole district succeed. I think it could be very valuable to the city."
Not everything in the city is moving in a positive direction, Dysart said. The city budget was something Dysart said she wanted to focus on and improve if she were elected mayor.
"Currently, we are close to a debt limit, and it is unwise to incur more debt without a larger commercial tax base and housing rebounds," Dysart said.
The nation's economic state has affected everyone, Dysart said, and people have responded by reducing their spending. Dysart said it was her goal if she became mayor to reduce spending by the city of Basehor.
"Budgeting for our city cannot continue by imposing higher fees to homeowners and developers, by committing the city to more and more debt."
Dysart said she had respect for the position of mayor, and if elected, she would strive to earn the confidence of the city's residents.
"The mayor's position belongs to the city," she said. "I take seriously that my commitment to all the people of Basehor is to be worthy of their trust. It has been an honor to work for and serve the people of Basehor."
The general election is Tuesday, April 7.