Looming state budget cuts spark board discussion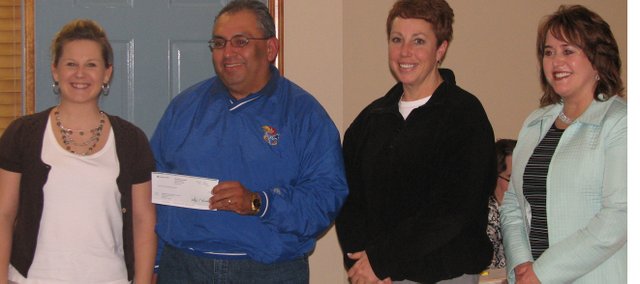 Basehor-Linwood School Board members are trying to figure out how to compensate for a potentially large budget cut.
At Monday night's meeting, board members discussed proposed state cuts that could cost the district about $260,000, or $66 per pupil, in the current school year and again in 2009-2010.
The state Legislature is discussing ways to close a $200 million budget deficit in the current fiscal year and upwards of a $1 billion shortfall in the next fiscal year, which starts July 1.
Board members talked about ways the district could save money.
One suggestion was to stop printing and mailing calendars and newsletters and instead post them on the Internet. Board member Dayna Miller said she thought this was an effective way to save.
"I am definitely for having the calendars online," Miller said. "That costs us a lot of money each year to print those and mail them off."
Other suggestions included controlling the cost of substitute teachers and reducing maintenance of athletic fields.
The board will continue the discussion at a work session that will be scheduled for later this month.
Members also talked about where the district might be able to raise student fees. They looked at areas such as driver's education, which currently costs students $185.
Superintendent Bob Albers suggested this might be increased to $275. Board member Patrick Jeannin said $275 was not too steep considering many surrounding schools and independent driver's education agencies charge more.
"I've heard of a lot of them running around $300 to $400," Jeannin said.
Albers said the board would be presented with recommendations on fee increases at the March 9 meeting.
In other business Monday , the board:
• Watched Sunflower Broadband present a $440 Gold for Schools check to Basehor-Linwood Education Foundation.
• Discussed whether to keep a Building Trades class at Basehor-Linwood High School. The program costs $48,300, and only 5 students from Basehor were in the class. Basehor's cost was roughly $6,000 per enrolled pupil. A decision will be made at the March meeting.
• Discussed a proposal to lease farmland left over from the new middle school project across the street from Glenwood Ridge Elementary School. The majority of the board members were in favor of planting grass.
• Tabled, 7-0, a consideration of a transportation agreement.
• Received job descriptions for food service positions to be voted on at the next meeting.
• Heard a report about the Health and Wellness Council from director of curriculum and instruction Sandy Guidry. The council has launched a successful fitness club for women and female students in the district and plans to give students a survey about the quality of the district's food service. It will also implement a new nutrition plan where students will not be allowed to buy vending machine food until one hour after lunch. Students will also not be allowed to sell food items for fundraisers during the lunch period.
• Heard a construction report from Construction Supervisor Chris Claflin. At the intermediate school, the walls for classrooms are almost all up to roof level, and the footings for multipurpose rooms are completed. At the middle school, Miles Excavating brought in 20,000 tons of gravel during two days.
• Approved, 7-0, to go forward with the exterior construction of Linwood Elementary School, including a canopy extending to the end of the gym, complete repair of the front steps, construction of sidewalks and some outdoor lighting and benches. The project will bring outside focus toward the elementary building entry and away from the middle school entry, which will no longer be used when the new middle school is completed.
• Approved, 7-0, Board of Education Policy Chapter M for a final reading.
• Approved, 7-0, the implementation of all-day kindergarten at Linwood Elementary School and Glenwood Ridge Elementary School at a cost of $30 per week. Assistant Superintendent David Howard explained that Basehor Elementary School did not have enough classrooms to support the transition to all-day kindergarten. He also said that some seats may be available at the other two schools for students at Basehor Elementary who wish to attend a full day of kindergarten. Those students would be selected by lottery.
• Approved, 7-0, the 2009-2010 calendar.
• Approved, 7-0, the job descriptions for maintenance positions.
• Approved, 7-0, the telecommunications contract with Sunflower Broadband.
• Approved, 7-0, the contract for David Howard as superintendent and Mike Boyd as assistant superintendent, both effective July 1.
• Approved, 7-0, a contract for Mike Wiley, assistant principal at Turner High School, as the principal of Basehor-Linwood Middle School, effective July 1.
• Approved, 7-0, the National American Choral Directors trip to Oklahoma City.