Neighbors: Mary Ann Mogle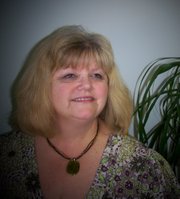 Occupation: Basehor city clerk
Family: Daughter, Brandy Ernzen, son, Ryan Mogle, fiancé, Don VanDyken
Place of birth: East Chicago, Ind.
Q: When did you move to Basehor, and what brought you there?
A: I lived in Piper and married shortly after graduating from high school. We then moved to 78th & State, Kansas City, Kan. My husband could not handle city living, so we decided to move to Basehor for the rural living atmosphere. At that time, Piper was starting to develop, and we felt Basehor had a more hometown feeling.
Q: What's the biggest risk you've ever taken?
A: Having children. I was always concerned that I would make a mistake in how I raised them. Luckily, they are two awesome children.
Q: What's the best piece of advice you've ever been given?
A: Don't sweat the small stuff.
Q: What three things would you want people to know about you?
A: I'm loyal, ethical, and my family means everything to me.
Q: What did you want to be when you grew up?
A: I wanted to run a large hotel chain.
Q: What's your ideal vacation spot?
A: Anywhere!!
Favorite things:
Song: "Unchained Melody" by the Righteous Brothers
Color: Yellow
Food: Pasta