Payne uses sport to give back
Basehor resident teaches karate lessons, self-defense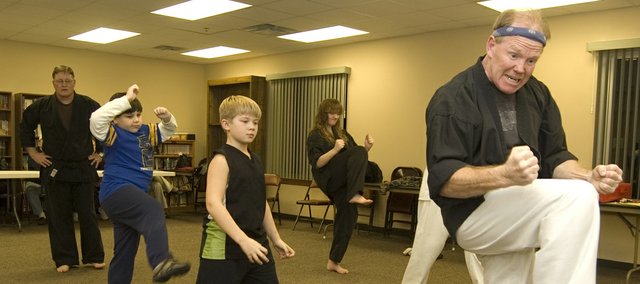 Noah Chambers, 11, of Turner, travels to the First Baptist Church of Basehor each Thursday night to learn karate.
Chambers attends the class each week to have fun, and also because he feels safe in the environment.
Noah is autistic. He is home-schooled and doesn't always interact well with other groups of children.
"He does not fit in with a lot of groups, but in this laid back atmosphere he loves it," said Noah's grandmother, Rita Troutman. "It does a lot of good for him. He gets so excited to come."
For that hour each week, Chambers is just another participant in the class. He is active in drills. He lets out shouts when performing a move while standing in place.
Chambers' shouts and grasping of the techniques being taught have been a highlight for Mark Payne early in the class. The Basehor resident gets a lot of enjoyment working with Chambers and other youths.
Payne teaches everything from experience. He and his brother, Jeff Payne, teach the basics of the sport to the class of students. They are two of the best kickboxers that the Kansas City area has ever produced, and also are trained in karate.
The brothers were world ranked in the 1970s and 1980s. Mark Payne had fights on ESPN. They compare kickboxing to what Mixed Martial Arts is today. If they were growing up in today's generation, they would attempt to compete in it.
The Paynes' big fights are behind them. Still, when Mark Payne watches old clips of his fights, he can recount every detail and explain intricacies that others might miss.
While he loves the memories of kickboxing and the sport, he has moved on.
He has a job working in law enforcement and is active at the First Baptist Church of Basehor. Jeff Payne also works in law enforcement. They have seen a lot of people get into trouble with the law, and this causes them to want to help mentor today's youth through karate.
The brothers offer the class from 6:30 to 7:30 p.m. Thursdays at the church to anyone interested in attending.
Currently, the brothers teach the basic kicks and holds of the sport. The intermediate moves will come as the class progresses with each lesson.
Students also practice holds and moves. On this night they are learning the basics, how to kick and hold. As each participant works through a drill, they are encouraged and coached.
Self defense techniques also are taught in the class. Students are repeatedly told that you should never use karate outside of competition to attack, but only in self defense.
"Any way that a person is attacked, there is always a way out," Mark Payne says to the class.
He also teaches the importance of balance.
"Balance is critical to everything you do," he said. "It is not so much how big and strong you are, but you have to be in control."
Throughout the class, knowledge is passed about the intricacies of karate. They are training students in Haichi-kyu and students receive instructions on what would be needed to earn a yellow belt in the sport.
In addition to learning the fundamentals of the sport, students pray and listen to scripture during parts of the class. Each week a new topic is discussed.
Students also learn the American code of Bushido, which involves the principals of courage, perseverance, integrity, honor, respect, discipline and humility. The words are backed up by sayings and tenets of the American Warrior.
Mark Payne said it is rewarding to see Chambers enjoy the class. Stories like this are why Payne is teaching the class.
When the class is over, Chambers is smiling and excited to return next week. Chambers and Troutman are on their way to Sonic.
"Thursday nights mean karate and chicken strips," Troutman says.
For Mark Payne, it is a chance to give back.