Wolf Creek makes progress
Despite slow start, project moves on schedule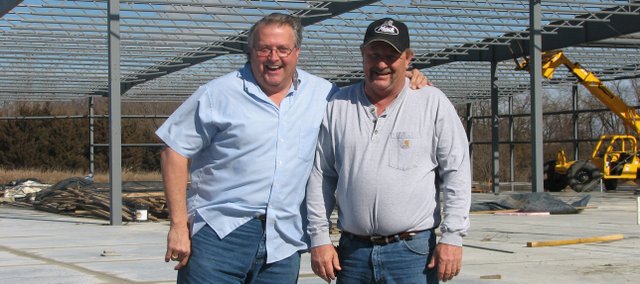 Q: How long has the Wolf Creek Junction project been in the works?
A: Ed McIntosh, Benchmark Management owner: This has been about a four-year process so far.
Q: How has construction been moving for the Wolf Creek Junction project?
A: Kevin Barclay, Wolf Creek grocery store operating manager: It's on schedule right now. We've made some good progress lately, and the breaks we've had in the weather have really helped out with that.
Q: When will the project be completed?
A: Barclay: We're pushing for June 1. Things happen that get in the way, but we're really trying for June, and it looks like we won't have any trouble doing that.
Q: There's been some controversy surrounding the project. Has that affected the construction process?
A: McIntosh: Oh sure, in the beginning, it certainly did. It was just one thing after another at first, and it took a long time to get the ball rolling. Every time we solved something, there was another problem. But it all got worked out, and since then, nothing has really stopped us from moving forward.
Barclay: Anyone but Ed would have given up, but he's tenacious. He kept going after it, and now it's really happening.
Q: What do you think the Wolf Creek project will offer the city of Basehor?
A: McIntosh: Well, for one thing, the convenience of the location and the grocery store and shopping there. For the last six years, the number one requested city amenity has been a grocery store. People want a grocery store here in town, and it was time to get it. Another thing is all the jobs it will create. The complex could really benefit the economy.