Governor signs budget-cutting bill
Sebelius calls for cooperation from Republicans to break cash-flow impasse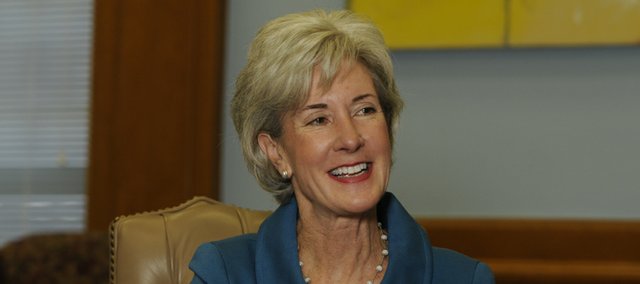 Topeka — Gov. Kathleen Sebelius on Tuesday signed a budget-cutting bill but reduced the size of the cut for public schools and then called for cooperation from Republican legislative leaders to break a cash-flow impasse that has threatened state employee paychecks.
"We are in very difficult economic times in this state," Sebelius said at a news conference where she signed the bill that reduced the current fiscal year's budget by $300 million.
"Unfortunately, this session has been marred with partisan divide instead of collaboration and cooperation. There have already been too many personal attacks. Hopefully that stops today," she said.
Sebelius' action followed a whirlwind day of finger-pointing between Democrats and Republicans.
On Monday, Republican legislative leaders refused to agree to $225 million in inter-governmental borrowing to ease a cash-flow crunch and ensure that state employees were paid on time Friday, as well as expenditures for health care, education and income tax refunds.
Republicans leaders, who control the Legislature, demanded that Sebelius sign the budget rescission bill or make the necessary cuts to address a growing revenue gap.
Sebelius signed the bill but applied her authority to line-item veto several items.
She vetoed a cut to public schools that would have reduced spending by $66 per pupil, and a cut to special education.
"I believe that with so much of the school year already behind us, the cuts proposed to public schools are too deep," Sebelius said.
Instead, Sebelius approved a cut through her allotment authority that will result in a $33 per pupil reduction in spending.
Sebelius also called for a meeting of the State Finance Council for 2 p.m. Wednesday to approve the $225 million in certificates of indebtedness.
"With legislative cooperation at the meeting tomorrow, our obligations can be met in a timely fashion," she said. "It's important that we pay our bills," she said.
Sebelius said she was directing budget director Duane Goossen to go forward with processing paychecks for state workers.