Officials optimistic after trip to Capitol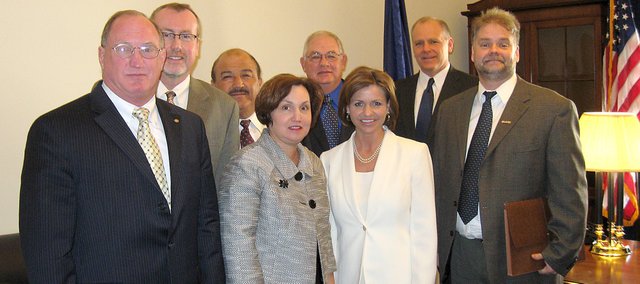 After a two-night, three-day and 2,000-mile whirlwind trip to Washington D.C., Mike Yanez, city administrator, and Tom Putthoff, city council, had a good feeling about their meetings with federal leaders.
At Monday night's city council meeting, Putthoff described the meetings the Leavenworth County group had with Sens. Pat Roberts and Sam Brownback.
"I really believe that we shocked them with some things that Leavenworth County itself is doing, specifically what Tonganoxie is doing in this area," Putthoff said.
Putthoff said that Brownback was happy to hear that the County Road 1 interchange to Interstate 70 would be completed in November and that the city had purchased nearly 240 acres for an industrial park.
and that the city had purchased nearly 240 acres for an industrial park.
Also in the Leavenworth County group: Scott Miller, Leavenworth city manager; Steve Jack, director of the Leavenworth County Development Corporation; Lisa Weakley, Leavenworth mayor; Chris Donnelly, executive vice president at Mid-American Bank and Trust; and Ken Miller, Lansing project liaison and public information officer.
The purpose of the trip was twofold. First, the group was there to reintroduce themselves to federal leaders, and second, to ask for money on certain projects.
Yanez said because the senators were looking for projects that promoted economic growth, he was pushing for $1.1 million on a more than $3 million project to improve 14th Street because it would also improve the connection to U.S. Highway 24-40.
Yanez said the senators also liked that the city already was willing to put its own money into a project and not just ask for 100 percent federal funding.
"We tried to tie it in that 14th Street was a stepping stone to move south toward that industrial park," Yanez said. "Of the projects that were mentioned, 14th Street was a project that Tom and I spun as much as we could about potential to grow toward the industrial park area and the turnpike."
The group met with each senator for about an hour on Thursday and was able to meet with Rep. Lynn Jenkins for about a half hour on Friday. They also briefly met Friday with Rep. Dennis Moore.
"I don't know if we will get a dime from them with the way things are, but I think Tonganoxie is on a map with them," Putthoff said.
Putthoff said the trip was worthwhile and the city should continue having city leaders meet with federal representatives.
Kathy Bard, assistant city administrator, said LCDC paid for the trip, which cost between $1,000 and $2,000 for Yanez and Putthoff. The city will pay LCDC for Putthoff and Yanez's share.
In other business, the city council:
• Took roll. Councilmember Steve Gumm was absent.
• Heard an update about the Tonganoxie Chamber of Commerce from Blake Waters, the chamber's president.
• Unanimously approved a resolution authorizing the sale of $1.355 million in general obligation bonds for the City of Tonganoxie. The bond is to move the sale of temporary notes in 2005 to the city's long-term debt.
• Unanimously approved BG Consultants, the city's engineering firm, to do design work for the city's Safe Routes to School program.
• Heard an update from Yanez on the interlocal agreement between the city and the county for County Road 1.
• Unanimously approved the expenditure of $2,792 from the city's general fund to participate in Ingram Magazine's Destination Leavenworth County issue.