5 Questions: Happy Birthday, Abe
Museum remembers, celebrates Lincoln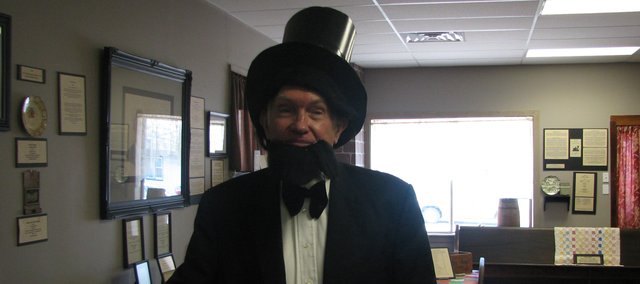 Q: How long have you been playing Abraham Lincoln?
A: Oh, a number of years. I've done different functions here and there. Never anything too big, but I sometimes get asked to be him a local events every now and then.
Q: Where else have you donned Lincoln attire?
A: The Gold Pride group does skits, and I've played Lincoln there a few times as part of a skit. Also, in Liberal, I was dressed as Lincoln during a parade. That's where I got my hat that I have on today. Some of the people in the parade made it for me.
Q: Did you do any research before playing the part?
A: Yes, I did some. I've been reading pamphlets and brochures about him that I got from the museum. I'm currently reading this book called "Lincoln's Virtues." It's a very good book. But from those pamplets and books, I learn more about Lincoln and what people thought of him and how I should play him.
Q: What is your favorite part of portraying Abraham Lincoln?
A: I think it's the historic value of it, of representing his greatness as a man. He rose from nothing. He didn't go to formal school, but he read all the time, and he eventually became a lawyer, a politician, a President all on his own. He's really someone to look up to. He's an example of what people can really do.
Q: What would you like everyone to know about our 16th president?
A: Well, that's hard because he had a lot of outstanding characteristics. He fought to preserve the union. That was his mission. His real purpose was to create a democracy, and he had the will and the determination to see it through. That's something to admire and remember about him. He saved the nation.