Basehor-Linwood kicker Savner to play football at Coffeyville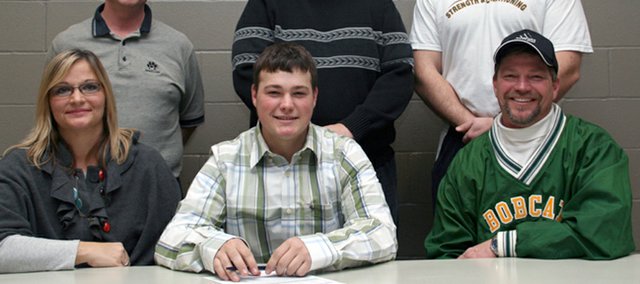 Basehor-Linwood kicker Kyle Savner changed field position with his punts and kicks during a lot of football games last season.
Touchbacks on kickoffs were routine for the Bobcats. Savner's punts often pinned opponents deep in their own territory, including a 62-yard punt against Santa Fe Trail.
"I had my best game ever against Santa Fe Trail," Savner said, referencing the extra-long boot. "I had a couple field goals, too."
For his performances and ability to kick, Savner has earned the right to kick in college. He signed a letter of intent on Feb. 4 with Coffeyville Community College to play football. He was the only Basehor-Linwood player to sign a letter of intent to play in college, but a few more are still exploring options.
"First of all, I really liked the coaches a lot," he said. "It seemed like a good fit for me because of the facilities and what I want to major in. It will be a good starting place. I really like the football program."
Coffeyville plays football in the Jayhawk Conference and is a tradition-laden program that is focused on winning.
"That is another thing that draws me there," he said. "I like the way that they are rebuilding and striving to win. I would really like to win."
Kicking in college often is a proving ground. If Savner performs well at Coffeyville Community College, then he will have the chance to go and kick at other places, Basehor-Linwood coach Steve Hopkins said.
"This is a great opportunity for him," he said. "He is going to be a good kicker, and we hope that he has the opportunity to punt also."
You have to be able to place the ball in spots in college, and not necessarily kick deep each time, Hopkins said.
Savner already has a workout that he is doing to prepare for playing college football. He is looking forward to playing at the next level.
Academically, Savner wants to study fire science or athletic training. He plans to become active in the athletic training department while in school, possibly helping out with other sports when football season is not taking place.
Kyle is the son of Mark Savner and Kris Dias.