Council approves Cedar Lakes annexation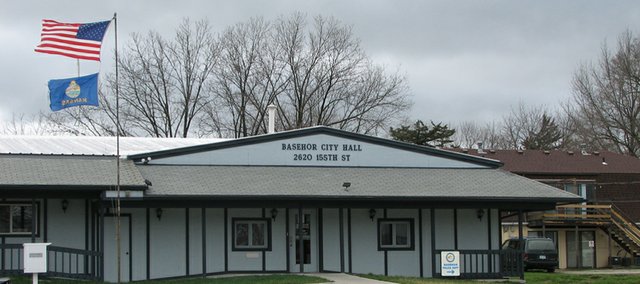 Despite residents urging the Basehor City Council to vote against it, council members approved the annexation of Cedar Lakes Estates, 4-1, at Tuesday night's city council meeting.
Council President Iris Dysart was opposed to the annexation, which will go into effect on April 8.
Before the vote, Cedar Lakes residents Cathy Stueckemann and Bob Workman gave council members a few final things to consider.
"Many states are no longer doing this forced annexation," Stueckemann said. "Many of them are approaching annexations on a voluntary basis. We should be able to decide what to do with our property."
Stueckemann also said that she wanted to clear the record on the subdivision utilities.
"It has been stated several times that we're using the city utilities and not paying our fair share," she said. "We don't use Basehor's services. We don't need them, and we pay more than our fair share for what we do get."
Workman also told council members that it was incorrect to claim that Cedar Lakes residents were using Basehor services without paying, and he said that he felt like the city had deceived people in Cedar Lakes.
"There's an additional 1 percent sales tax in the city that no one mentioned," Workman said. "It's deceptive to not point that out. Also, no one said anything to us about having to pay a franchise fee on our utilities. The next time you guys put out an annexation proposal, put out all the facts."
Along with the approval of the annexation, council members decided that residents of Cedar Lakes would keep their current trash haul services until the city's contract renewal with Deffenbaugh in 2010. They also decided to maintain the area's street addresses.
In other business Tuesday night, council members:
• Approved, 5-0, a proposal from MARCIT to extend its territory in Kansas and form a new entity called Midwest Public Risk of Kansas. MARCIT is an organization that serves Kansas and Missouri employees' benefit needs. In 2007, MARCIT decided to expand its pool further into Kansas and in doing so, created the Midwest Public Risk of Kansas pool. Existing members in Kansas must withdraw from MARCIT and adopt the appropriate organizational and legal documents.
• Approved, 5-0, to adopt a resolution incorporating an identity theft policy as mandated by the Federal Trade Commission. Governments have until May 1 to implement a set of Red Flag Rules and to designate an administrator for the program.
• Approved, 5-0, an ordinance amending Chapter VII, Article 3, Section 7-305 of the Code of the City of Basehor concerning fireworks. The Kansas Department of Revenue has worked during the last three years to regulate the collection of sales on firework stands. With the new ordinance, no permits will be approved unless the applicant furnishes a tax clearance from the Department of Revenue ensuring prior year sales tax, if owed, are paid. All persons operating fireworks stands are liable for taxes unpaid. Applicants must also provide proof of a public liability insurance policy, written by a carrier licensed to do business in Kansas.
• Heard an announcement from City Administrator Carl Slaugh that there will be a public meeting to discuss the decommissioning of the Glenwood Estates sewer lagoons at 6 p.m. Tuesday, Feb. 24, at Glenwood Ridge Elementary School. There will also be a strategic planning session at 8 p.m. Saturday, Feb. 28, at the Basehor City Hall.