Lincoln connection lives in Kansas
Author celebrates former president's 200th birthday with visit to Basehor museum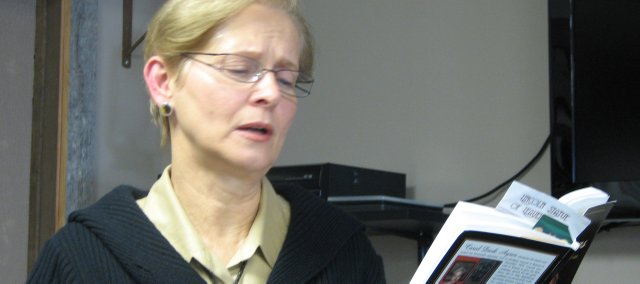 Kansas has had a greater affect on America's history than one might think. Carol Ayres, author of "Lincoln and Kansas: Partnership for Freedom," told listeners at the Basehor Historical Museum the Sunflower State had a lot of sway during the Civil War.
Ayres spent part of the day Feb. 12 at the museum in celebration of Abraham Lincoln's 200th birthday.
"This is an important day," Ayres said about Lincoln's birthday. "It's important for the nation, and it's especially important for this area, because Lincoln actually gave his first presidential campaign speech in Leavenworth, Kan."
During the days of Lincoln's campaign, Ayres said, Leavenworth was booming. It was the largest city between St. Louis and San Francisco, she said.
"Leavenworth was the place to be," Ayres said. "It was the city of the future, and Lincoln said that if he were to ever move out west, he would go to Kansas, back to Leavenworth."
The nation was on the brink of war when Lincoln was seeking the presidency. Slavery had planted a wedge between two halves of the nation, Ayres said, and Lincoln knew that Kansas was pivotal in the fight.
After the Kansas-Nebraska Act passed, pro-slavery and anti-slavery supporters flocked to Kansas to try to obtain another state in their favor.
Ayres said that during a debate between Lincoln and presidential candidate Stephen Douglas, Lincoln said, "Kansas must be free," knowing the state could seriously shift the balance between freedom and slavery.
"This showed his understanding that the way Kansas went, so would the nation follow," Ayres said.
Kansans should be proud of this knowledge, Ayres said.
"I want Kansans to remember that they had a big part in history," she said.
Ayres also took some time to talk about Lincoln himself. She said he was not much to look at, and that everyone who met him said he never spent time worrying about his appearance. But appearances aside, Ayres said Lincoln captured people's attention with his words. When Lincoln spoke, no one thought about his disheveled hair and wrinkled coat.
"Lincoln was able to take a man who thought he was a country hick, and in a two-hour speech, have that man convinced that he was fit for the presidency," Ayres said.
Part of Ayres' mission with her book was to bring Kansas' role in the war to the forefront, but she said she also wanted to separate truth from myth when it came to Lincoln.
"Lincoln has grown beyond history," she said. "His continued popularity has given way to a lot of tall tales."
One such hoax, Ayres said, is a sign by a house outside Basehor that boasts the phrase, "Lincoln slept here."
Ayres said she traced this rumor down to the deed for the land, and she found out that it couldn't be true. She said that Lincoln was only in Kansas one time, and he would never have had time to visit or stay at anyone's house.
"Also, at the time that he was in Leavenworth, there wasn't even a house on that lot. The land still belonged to the railroad."
She acquainted the rumors with the country's admiration for Honest Abe.
"I think people so revered him and wanted to be connected to him that they made up stories so they could be close to him," Ayres said. "I think people still feel that way. People still want to be close to him and part of what he did."