Seaton, Johnson place 2nd at
KVL

tourney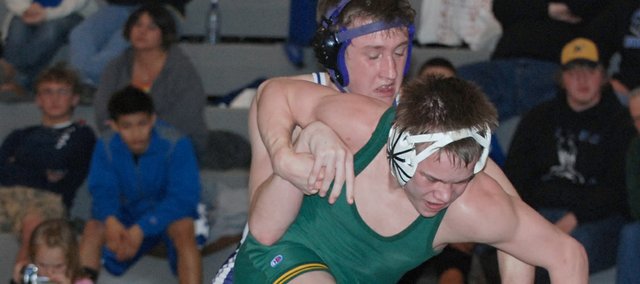 Two Basehor-Linwood wrestlers captured runner-up finishes on Saturday at the Kaw Valley League Championships at the Bonner Springs YMCA.
Sophomore Symon Seaton won the silver medal at 125 pounds and junior Joe Johnson was second at 145 pounds.
As was expected, Seaton ran into rival Derrick Weller of Piper in the finals. It's the third time this season they've met. The first two matches went to overtime and they split the series. On Saturday, Weller finished the job in regulation with a 6-3 victory. The match was tied at the start of the third period.
Seaton had cruised through the bracket until his match with Weller. He defeated Justin Crotty of Tonganoxie, 15-0, in his first match. In the next round, he defeated John Mehl of Perry-Lecompton, 16-0, before facing Weller in the finals.
In Johnson's finals match, he lost to James Mullin of Mill Valley and finished the tournament with a 2-1 record.
Johnson defeated Jesse Estrada of Turner in the first round, 12-0. In the next round, he defeated Ethan Anno of Santa Fe Trail, 9-1, before losing to Mullin in the championship match.
The two second-place finishes propelled Basehor-Linwood to a seventh-place finish in the team standings.
The Bobcats finished in front of Piper, Bonner Springs and Bishop Ward.
Mill Valley won the tournament with 184 points to edge out Santa Fe Trail who scored 159 points and finish in second place. An injury-plagued Lansing finished third with 144 points, followed by Tonganoxie, Perry-Lecompton and Turner.
In addition to the second-place finishes, Bobcat wrestler Mike Torrez placed third in the 103-pound weight class. Torrez defeated Kale Cauthon of Santa Fe Trail, 8-3, in the third-place match. Earlier in the tournament, he lost to Ryan Hodges of Mill Valley in the semifinals match, 5-4. Hodges went on to finish second in the tournament.
Garret Kahle placed fourth in the 140-pound weight class. He lost to Jason Langford of Turner in the consolation finals.
Earlier in the tournament, Kahle lost his first-round match to Ryan Weaver of Santa Fe Trail, 4-0.
He rebounded in the next round to defeat Phillip Lewis of Piper by pin. He defeated Wes Appleget of Lansing in the next round, 5-0, before losing to Langford in the next round.
Basehor-Linwood will compete in the Class 4A regional wrestling tournament at Spring Hill on Friday and Saturday.
The Bobcats will wrestle against Baldwin, De Soto, Eudora, Anderson County, Bishop Ward, Piper, Sumner Academy, Prairie View, Saint James Academy, Louisburg, Osawatomie, Ottawa, Paola and Spring Hill.
The tournament is one of four regionals that will send wrestlers to the Class 4A state tournament in Salina.