5 Questions: Mysterious Kansas
Author provides new view of Sunflower State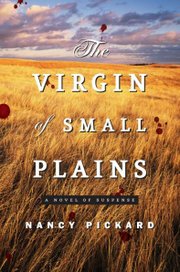 Q: Your newest novel, "The Virgin of Small Plains," is quite a success. How does it feel to win all those awards?
A: I will not tell a lie. It's wonderful. This book was a big departure for me because all of my other novels had been part of one of my three series. This was what they call a "stand-alone," meaning there won't be any other books featuring these characters. It's also a departure in that I was attempting something more than "just" a mystery, although there is definitely mystery in it. So the awards helped reassure me that I had done the right thing by doing something different from my usual thing.
Q: What did you want to accomplish in writing this novel?
A: I wanted people who don't live here to see some of the beauty of this state. Honestly, I was so sick of reading about Kansas in an unflattering light that I wanted to show it through my eyes, and what I see here is great natural beauty. I also wanted to give people a good story that would keep them reading long into the night.
Q: What do you like most about writing mysteries?
A: I like that mysteries explore important matters of life and death, and I like the comfort of a certain amount of plot structure.
Q: To those who enjoyed "The Virgin of Small Plains," what book(s) do you recommend they read next?
A: I recommend Bum Steer. It, too, is set in the Flint Hills, and people tell me it's their favorite book of my Jenny Cain series. It's my favorite of that series, too. It's funny, I hope, and sexy, and surprising.
Q: What's in store for the future?
A: I'm finishing my next Kansas novel, one set in west central Kansas. It's called "The Scent of Rain and Lightning" and should be out late this year or some time next year.