Koontz has historic week during pair of victories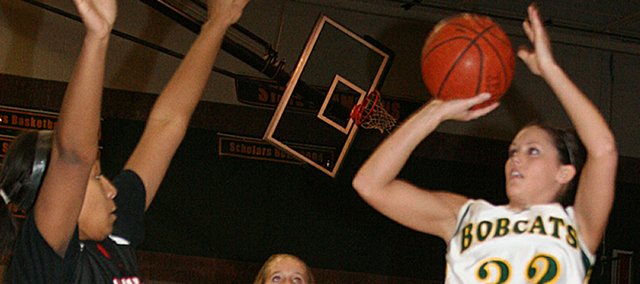 Perhaps the only way Bren Koontz's week could've been any better last week would've been if the Basehor-Linwood girls basketball team had locked up a state tournament berth to go along with her back-to-back record-setting performances.
On Tuesday, Feb. 17, Koontz poured in seven 3-pointers against Santa Fe Trail, tying BLHS girls basketball coach Noah Simpson's school record for treys made in a game.
Three days later, Koontz broke the single-game mark for points in a game against Turner on Friday, scoring 35 points in a 65-17 victory.
Koontz drilled a 3-pointer with less than a minute to play in the game, capping her performance and breaking the old mark of 34 to finish the game with 35. Shortly after the basket, Simpson called a timeout and subbed in for Koontz who drew an ovation from the crowd. The scene was a fitting end to a night that belonged to Koontz.
She scored 20 points in the first half, including 10 points in the first quarter that propelled the Bobcats to a 23-2 run. Cassy Bever scored 7 points in the quarter.
Koontz followed with 10 more points in the second quarter as Basehor-Linwood outscored Turner 14-4 and led 37-6 at halftime.
At intermission, Simpson and the Bobcats decided to try and help Koontz break the record. Surely she could score 15 points in the second half after her first-half domination.
"We talked about the importance of sometimes sacrificing for your teammates to give them an opportunity to break a record," he said. "In those instances you do what you can to help someone get the record. We would have done that for any player."
With a 30-point lead, the team dedicated a lot of time toward getting the ball into Koontz's hands for shots.
She scored 8 points in the third quarter and helped the Bobcats lead 54-15 entering the fourth quarter. Koontz continued to chase the record throughout the fourth quarter, but she didn't know how close she was.
Simpson kept calling on her to shoot the fourth quarter, and later in a timeout told her how close she was to the record.
When play resumed, the Bobcats got her the ball and she scored.
"Yeah, it is kind of surreal right now," she said. "I didn't even know how close I was until the last timeout when they told me what they were trying to do. I could not have done all of this without my teammates. They were really unselfish in their play to help me get the record."
The record was part of a dominating night for the Bobcats. In addition to Koontz's performance, Megan Bergstrom scored 12 points and Amber Jeannin scored 8, Bever had 7, Macyn Sanders scored 4 and Courtney Hooks added 1.