New principal looking forward to change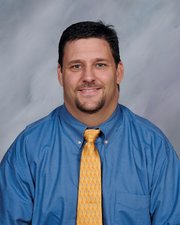 Turner High School Associate Principal Mike Wiley is ready for his new position as the Basehor-Linwood Middle School principal.
"I'm thrilled to have this opportunity," Wiley said.
Mike Boyd, who has been the middle school principal for 17 years, is moving up to assistant superintendent for the district, replacing David Howard who will replace Superintendent Robert Albers when he retires.
Wiley has been at Turner for two years. He said he sought the open principal spot because of his positive past experiences with USD 458.
"I used to teach in DeSoto, and we'd compete with Basehor in athletics and academics, and the schools made an impression on me," Wiley said.
He said he worked with Boyd in the past, along with a few other Basehor-Linwood faculty members, and those people combined with his love of small towns drew Wiley to work in Basehor.
"I grew up in Lyndon, a really small town, and I just love the feel of small towns," he said. "I know people on the staff (in Basehor), and they are really quality individuals."
Wiley and his wife currently live in Olathe with their two daughters, Reagan and Jenna, and Wiley said that he believed the switch from high school to middle school would give him more time in the evening to spend with his family.
Basehor-Linwood Middle School has significantly fewer students than Turner High School, which Wiley sees as a plus.
"Having 300 kids instead of 1,100 will be awesome because I'll have the opportunity to know all the students' names and get to know them," Wiley said. "And middle school kids are so fun. High school is great, but middle school kids are a little more goofy, and I'm excited to get back to that."
As principal, Wiley said he wanted to keep the school performing well and work to create a nearly seamless transition into the new building.
"I'm an arranger," he said. "I'm looking forward to the logistics of the move, and I want to help make it easier. I know it won't be perfect, and it will be an anxious time for all, but I want to make it as smooth as it can be."
Wiley's first order of business, however, will involve a lot of introductions.
"My first task is to get to know my staff," he said. "Mike Boyd has been there for a long time, and everyone is used to him and his methods. I'm sure the anxiety will be high as the school changes principals, and I want to get to know everyone and help them however I can."
During his time as associate principal, Wiley said he filled in when the lead principal was away, and he was used to people coming to him for help. These experiences, he said, made him confident that he was prepared to be a lead principal.
"My job history is invaluable in this change," he said. "It will be different, and there will be challenges, but I'm ready."
Wiley said that his term at Basehor-Linwood did not start until the end of the summer, but staff members would probably see him walking through the middle school's halls sooner.
"My duties will be completed at Turner in July, and I start at Basehor in August, but I don't think I can wait that long. I will at least be carrying in photos of these girls in July," he said pointing to pictures of his daughters. "I am just really looking forward to it."