Torrez nabs regional title to lead
BLHS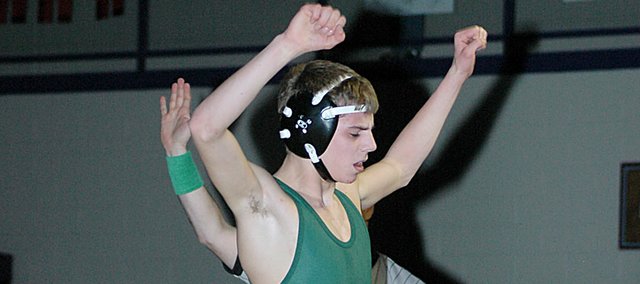 Mike Torrez walked off the mat at Spring Hill High School a champion on Saturday.
He was congratulated by coaches, and he was hugged by his parents and grandparents who had driven to Spring Hill to watch him compete.
Moments later, he climbed the podium to the top and was announced as a regional champion.
"It is awesome," he said. "I feel like I am on top of the world."
Torrez, 23-11, placed first in the 103-pound weight class at the Class 4A regional wrestling tournament on Saturday by defeating a wrestler from Spring Hill.
"It was hard. I had to wrestle against a kid that had beaten me earlier in the season at Bonner Springs," he said. "I wanted to win and get a good seed at state."
Torrez trailed 2-0 early in the championship match. He rallied to score later in the first period.
In the second period, Torrez started in the down position, stood up and then recorded a takedown to take a 3-2 lead in the match. He scored two more points to take a 5-2 lead and from there took control of the match.
He recorded another takedown in the third period to take a 7-2 lead and never relinquished control of the match.
"That is the best match he has wrestled all year," assistant coach Ryan Heffley said.
In reality, this has been a season of improvement for Torrez. He was one of two BLHS wrestlers to compete at the state tournament last season. The state appearance has propelled his wrestling career, BLHS coach Scott Neil said.
"It did help him out," he said. "He is a totally different kid on the mat and gets his mind into it before he is going to wrestle."
While he relishes the regional title, Torrez enters the Class 4A state tournament with something to prove.
"I hope that I get a good seed and do a good job down there," he said. "I hope to have a better experience than I did last year. Hopefully, we will have a good week at state next weekend."