Longtime county clerk leaving post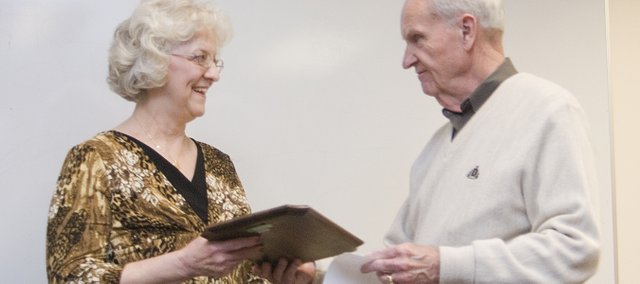 Monday will mark the end of Linda Scheer's decades of work for Leavenworth County, of which the last 19 has been devoted to being the county clerk.
With lots of hugs and with some tears welling up, Leavenworth County staff and volunteer election workers gathered in the basement of the courthouse to wish Scheer good luck with her retirement.
"I'm just so honored and excited," Scheer said about the room full of friends.
Leavenworth County Clerk-elect Janet Klasniski, started the retirement party by saying a few words about Scheer and how she had enjoyed working with Scheer, who she has known since before she started working at the clerks office.
"I'm going to miss Linda a lot and the office is going to miss Linda a lot," Klasinki said.
Leavenworth County Commissioner Clyde Graeber spoke on behalf of the board thanking Scheer for her years of service.
"You always hate to see someone who has been so dedicated, knowledgeable and hardworking leave county government," Graeber said before presenting Scheer with a distinguished service award for her time as county clerk.
Scheer said she never thought the day would come when she would retire. In May of 2007 Scheer reached the 85 points needed to retire under the Kansas Public Employee Retirement System. When she reached that milestone, she said she didn't know what she wanted to do, but by the following February and the beginning of the election cycle she had made her decision to retire knowing she was going to leave the county clerks office in the very capable hands of Klasinski.
"If she hadn't chosen to run, I wouldn't have retired," Scheer said.
Scheer's absence will also be felt at the state level.
Kansas Secretary of State Ron Thornburgh said that Scheer had played an important role in changing the way the state trains and interacts with county clerks regarding election issues. He said as the longtime chair of the Kansas County Clerks and Election Officials Association's education committee she was instrumental in developing training programs such as the Wichita State's Sanborn institute, which certifies clerks after three years of in-depth training.
"Linda is personable, professional, and always well-versed on the issues affecting her community," Thornburgh said. "She will certainly be missed."
Scheer said she didn't have any immediate plans for her future other than spending more time with her two grandchildren.
She said of her time at the courthouse, which started at the county attorney's office in the 1970s before she moved to the clerk's office in 1980, she was going to miss the people the most especially the many hardworking poll workers that have willingly served each election cycle.
"I appreciate the voters and that tax payers of Leavenworth County for giving me the opportunity for me to serve you."