Bobcats too sharp for Sabres
BLHS

girls stay unbeaten thanks to big third quarter
Photo Gallery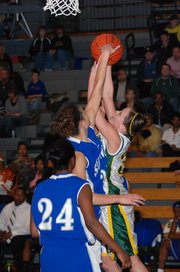 Basehor girls 48, Sumner Academy 36
After a sluggish first half, the Basehor-Linwood girls basketball team pulled away from Sumner Academy in the third quarter on Tuesday en route to a 48-36 victory.
With the score 19-19 at halftime, the Bobcats used a 13-4 run to win their first game of 2009 after a 25-day break from competition.
Players drew upon a request from BLHS coach Noah Simpson who during halftime asked his players to continue playing as they had in the first half, but to take it up a notch in intensity. He wanted them to perform better in all facets of the game.
He wanted players to play aggressive by battling on the ground for loose basketballs and playing ferocious defense.
When play started in the third quarter, the Bobcats responded with a message of "consider it done, coach."
Players forced turnovers and had a balanced scoring attack. The score was 24-23 when Megan Bergstrom made a layup and went to the foul line with a chance at a three-point play. She missed the foul shot, but Sumner Academy turned the ball over on its next possession and Basehor-Linwood scored on a three-pointer by Amber Jeannin.
Sumner Academy turned the ball over on its next possession, and Courtney Hooks was fouled while shooting. She made the first of two foul shots. Following Sumner's next possession, Hooks made a field goal on the Bobcats' next possession.
With those points, BLHS started the quarter on a 13-4 run and built a 32-23 lead. Sumner cut the lead to 35-29 entering the fourth quarter, but the Sabres were unable to cut the scoring deficit any further.
Hooks made a field goal early in the fourth quarter and then Bergstrom made another shot to help the Bobcats to a 40-29 lead. BLHS played the rest of the game with a double-digit lead.
Bergstrom and Bren Koontz scored 13 points each, leading the team to its fourth victory of the season.
Throughout the game, Bergstrom made timely baskets when the Bobcats needed them.
"I just played hard and focused on helping the team win," Bergstrom said.
Through four games this season, she has helped solidify the Bobcats' post game and said she felt comfortable playing down low. With the graduation last season of Cassie Lombardino, Bergstrom has stepped in and helped fill the void left by her departure. She is pleased by the team's 4-0 start to the season.
"It feels great to have worked hard and be in this position," Bergstrom said. "We have not lost since last year on our home court."
In addition to Bergstrom and Koontz, Cassy Bever made a trio of three-point shots and finished with 9 points. Macyn Sanders and Jeannin each scored 3 points. Hooks finished with 7.
The Sabres were led by Kathleen Brisbane with 11 points.
Basehor-Linwood will open Kaw Valley League play at 6 p.m. Friday at Turner.