Lansing author enjoys life dream come true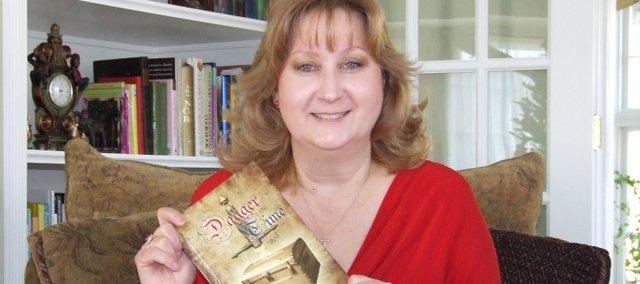 A mixture of curiosity and wild imagination is all it took for Joan Hunsaker to fall in love with writing.
The Lansing resident, who has been writing as a hobby her entire life, published her first book in July 2008. Not only did her children's book, "A Dagger in Time," fulfill a lifelong dream, but the process also gave her a new look on life.
It was at her sick mother's bedside where Hunsaker did most of her writing. While sitting next to her mother, who was battling cancer at the time, she said she came to a realization that gave her the motivation she needed.
"I just thought life is short. I just knew it was something I finally needed to do," she said.
Hunsaker was able to finish her book before her mother's death, but the process of getting it published would take some more time. Like many writers, Hunsaker used the book "Writer's Market" as a guide to the ins and out of the publishing world.
She sent her finished project off to several publishers, and after a couple years of disappointment and waiting, Hunsaker received the news she always hoped for.
"I was so excited when I got the phone call," she said of hearing her book was being published. "Then when I saw it online for sale, I honestly almost fell out of my chair."
Hunsaker's book "A Dagger in Time," is about three children who move into an old house and begin exploring the attic. They find a trunk and its contents send them catapulting through time to Boston in 1810. The story follows the children on several adventures as they work to save an innocent man and also find their way back home.
The three characters in the novel are based on three of Hunsaker's own grandchildren, Tyler, Hailey and Megan. Hunsaker used not only their names and ages for the story, but incorporated the children's true personalities.
The story itself was an adaptation of her grandchildren's favorite bedtime story. Hunsaker said she was always making up stories in her mind, and most, like "A Dagger in Time," have a mysterious quality about them.
"I've just always wanted to write," she said. "It's just something I need to do, and I love it."
Hunsaker has already started on a sequel to "A Dagger in Time," which she hopes will get published as well. The next story focuses on the same three children who are a year older and adds in a few more characters. This time, the trunk will take them to Washington D.C., where their adventures surround such historic events as the Lincoln Memorial and the legend of the White House cat.
"I'm excited. I can't wait to finish the next one," she said. "It's contagious once you start."
Hunsaker's book can be found at most major book Web sites, including amazon.com and barnesandnoble.com.
"I'm just happy," Hunsaker said. "Even if I only sold two books it would be okay, because it's still my book and is something I've wanted to do my entire life."