School construction stays on schedule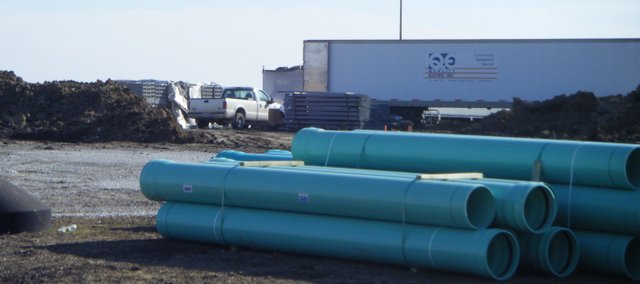 Though it looks like nothing more than a few towering piles of dirt, the new Basehor-Linwood intermediate school is coming along quickly.
Affinity Development began construction of the $11.45 million school in late 2008, and 2009 looks like a promising year for the site.
"Nice days help us out a lot," construction supervisor Chris Claflin said. "So much of what we're doing right now — pouring foundations and such — depends on the weather, but we've had some nice working days lately."
Claflin said that the projected opening date for the school, which will house third-, fourth- and fifth-graders, is still fall 2010.
"At this point, I don't see any reason why we wouldn't be finished in time for that school year," Claflin said.
As of Tuesday, Claflin said that the water was working, the sewer system was almost completed, and that workers had started on some of the school's masonry. He said the crew began laying some of the foundation earlier and was continuing to pour concrete this week.
The area has certainly changed since the October groundbreaking ceremony when Jerry and Ruth Mussett were recognized for their immense contribution to the Basehor-Linwood School District.
The couple donated 10 acres of farmland south of 155th and Hickory streets to the cause of building the new school. The land had been in Jerry Mussett's family for 65 years, and he and his wife decided in 2007 to hand it over to the district that had already seen three generations of Mussetts through school. Now, a twisting gravel road guides construction workers off 155th Street, past the old house and barn, around to the field where the Mussetts' grandchildren will someday attend school.
The transformation of the land in the coming months, Claflin said, will steadily progress, providing winter conditions remain mild.
"Weather willing, we're moving right along," he said. "We're on schedule right now, and we're hoping to keep it that way."