Wolf Creek public hearing draws big crowd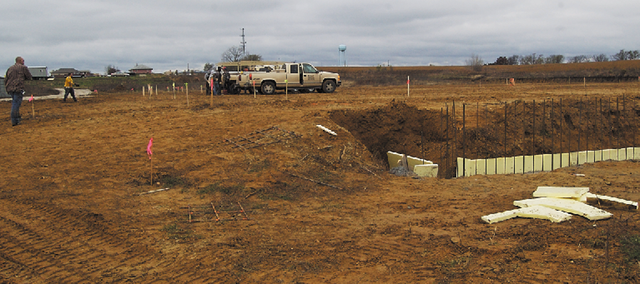 Basehor City Hall was packed Monday night as residents gathered to take turns putting in their two cents about the transportation development district for Wolf Creek Junction.
During the city council meeting, community members had the opportunity to address their concerns in front of council as part of the meeting's public hearing.
The hearing was intended to discuss the proposed amendment to the Wolf Creek project, which would add the 150th Street intersection as an eligible expense in the transportation development district. The city's share of improvements in the district would be paid for by a special 3/4-cent sales tax levied on sales within the district.
Council members, however, quickly found that the public wanted to talk about the project all together. Reactions to the development of Wolf Creek Junction, which would be anchored by a full-service grocery store, were both positive and negative.
As part of the project, the intersection at 150th Street and U.S. Highway 24-40 would be straightened, and the roads aligned in a perpendicular fashion. Also, Wolf Creek Parkway would be extended to 150th Street, and a southbound left turn lane and a northbound left turn lane would be constructed at 155th Street and Wolf Creek Parkway. In addition 153rd Street would be constructed to extend through Wolf Creek Parkway and to U.S. 24-40, where there would be a right-turn in and right-turn out access point. This access point would only allow drivers to turn right when going into and coming out of the area.
A few other changes would be made as part of the project, but most of the controversy seemed to revolve around changes to be made to 153rd and 150th streets.
Residents Martha and Walter Heimbaugh spoke, saying they were against the parts of the project that changed 153rd and 150th streets. They said the council should rethink these actions because of a safety hazard to residents living in the area. They said the project would cause heavy rush hour traffic on residential roads from U.S. 24-40 during times when children might be out playing in the neighborhoods. Such traffic was a hazard to everyone in the community, they said.
"I am against this, and I'm appalled that we're talking dollars here and not human impact," Martha Heimbaugh told council members. "I'm putting my faith in you guys to do more research, to conduct a traffic study, and change the plans or eliminate them."
Other residents, such as Joe McArdel, were concerned that not having an access point at on U.S. 24-40 would hurt businesses in the area.
"Only having two entrances (from U.S. 24-40), when retail businesses usually have five to seven entrances, will cripple those businesses," McArdel said.
In the end, the council approved, 3-2, with Council members Iris Dysart and Jim Washington opposed, an agreement with the Kansas Department of Transportation for construction of Wolf Creek Parkway. The council also approved, 4-1 with Dysart opposed, an agreement with KDOT for construction of 150th Street at the intersection of U.S. Highway 24-40.
Also on Monday, council members:
• Heard from Paul Howe, of Deffenbaugh Disposal. He said he wanted to be present at the meeting to acquire feedback about the company's services. Dysart suggested that a phone line be installed just for Basehor so that residents may call him directly with complaints or problems. Howe told her that such a line would not be possible, but he would give her the office's direct line for public use.
• Approved, 5-0, tabling an offer made by Steve Miles, president of Miles Excavating Inc., for acquiring a right-of-way entrance on the south side of 24-40 to extend to 150th Street to the south. Council wanted more time to hire an appraiser and make a more informed decision before committing to Miles on the project.
• Approved, 3-2, an application for a transportation revolving fund loan, which would provide assistance under KDOT to the city for transportation projects. Dysart and Washington were opposed.
• Approved, 5-0, the pay request from CAS Construction LLC for the wastewater treatment plant expansion in the amount of $170,911.80.
• Approved, 5-0, filling the vacancy on the city planning commission left by David Povilonis. Joe McArdle will take the position.
• Tabled, 5-0, until the next meeting an interlocal agreement with Leavenworth County for Sewer District 3 Glenwood Estates dealing with decommissioning of the sewer lagoons.
• Approved, 5-0, a payment to Leavenworth County for the 158th Street turn lane completed in 2005. The payment will be taken out of the 2008 general fund.
• Approved, 5-0, payment to the Kansas Municipal Insurance Trust for Worker's Compensation insurance.
• Approved, 5-0, payment of membership dues to League of Kansas Municipalities and subscription to Kansas Government Journal to League of Kansas Municipalities.
• Approved, 5-0, the 2009 contract with Leavenworth County for probation services.