Brownback invites Obama to Fort Leavenworth
Kansans gear up against moving Guantanamo detainees to Fort Leavenworth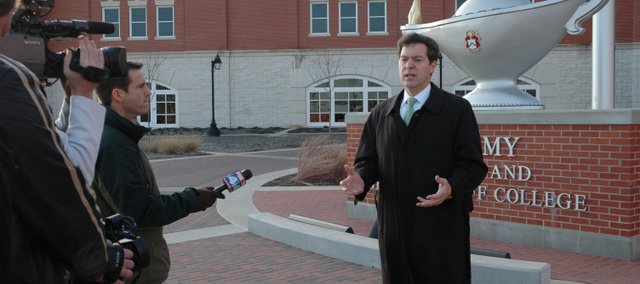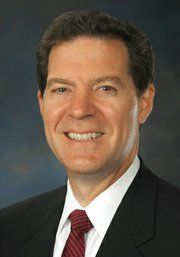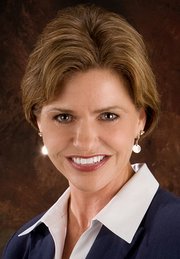 Fort Leavenworth — One of Kansas' U.S. senators wants to President-elect Barack Obama to come to the Sunflower State to see why housing suspected terrorist detainees at Fort Leavenworth would be a bad idea.
U.S. Sen. Sam Brownback on Monday invited Obama and his advisers to tour the Disciplinary Barracks at Fort Leavenworth. Obama was interview Sunday by George Stephanopoulos on ABC News' "This Week" and expressed the challenges with closing the detention facility at Guantanamo Bay within the first 100 days of his administration.
"I am glad President-elect Obama acknowledges the challenges our country faces in closing the detention facility in Guantanamo Bay, and I invite him and his team to join me in Kansas to tour the Disciplinary Barracks at Fort Leavenworth," Brownback said.
"I would be honored to show him firsthand why Fort Leavenworth is not an acceptable facility to house enemy combatants and he will find that once you see the base up close, it's hard to show why terror suspects should be housed in Kansas."
Brownback has several times toured the Disciplinary Barracks at Fort Leavenworth and, in consultation with officials at the Defense Department, concluded Fort Leavenworth was not equipped to handle those currently held at Guantanamo Bay.
"Transferring Guantanamo detainees to Fort Leavenworth would be unwise and unsafe," Brownback said. "If the holding facility at Guantanamo Bay is closed, a new facility should be built, designed specifically to handle detainees. For good reasons, federal law prohibits the co-mingling of military prisoners with a detainee population and detainees to Fort Leavenworth would disrupt the Fort's primary mission as the intellectual center of the Army at the Command General Staff College."
Brownback has repeatedly stated that Fort Leavenworth is not a suitable location for enemy combatants because the disciplinary barracks are primarily a medium security facility; the base is primarily focused in training officers at the Command General Staff College; the proximity of the base to a community airport, farms and the surrounding community; and the lack of medical facilities on site, which would require transporting combatants through town to be treated in community hospitals.
Lynn Jenkins, the newly seated congresswoman from the 2nd District, which includes Fort Leavenworth, last week introduced legislation that would prohibit the use of federal dollars to transfer the Guantanamo detainees to the Disciplinary Barracks.
"It is my priority to look out for the safety and well-being of folks living in the 2nd Congressional District, and I cannot, in good conscience, say that the people of Leavenworth or the surrounding areas would be safe or secure if President-Elect Obama decides to move the nearly 80 detainees from Guantanamo Bay to Fort Leavenworth," Jenkins said.