Wiley sworn in as district judge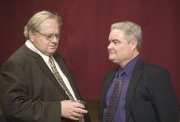 A Leavenworth County resident was sworn in Friday as the newest First Judicial District judge.
The ceremony and reception was held at the American Legion in downtown Leavenworth for Dan Wiley, who is an attorney long involved in the Leavenworth community. The First Judicial District covers Leavenworth and Atchison counties. He replaces Judge Frederick Stewart, who retired in 2008. Gov. Kathleen Sebelius appointed Wiley to the post in December
The 44-year-old Wiley, who has been with Murray, Tillotson and Wiley since 1993, also has served as municipal court judge for the City of Leavenworth.
During the ceremony, Wiley joked about being a municipal court judge, describing the atmosphere as "part Judge Wapner, part Jerry Springer."
He also said he had a great relationship with other lawyers in the Leavenworth community, "although that may change come Monday," he joked, as that's when he starts his new position
Wiley said there were two things he told the governor during the appointment process: that he would not forget his roots — growing up on a farm and the values that come with it — and that being an attorney, he understands what it is to be on the other side of the bench.
Wiley grew up on a farm between Lawrence and Tonganoxie. He attended Kansas State University before graduating from College of Great Falls in Montana. He later earned his law degree from Kansas University.