BLHS

boasts two champs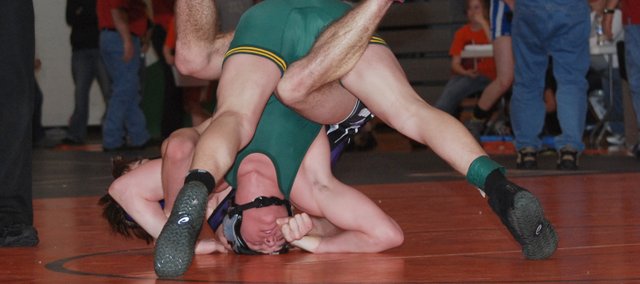 Bonner Springs — After a three-week winter break, the Basehor-Linwood High School wrestling team returned to the mat with emphasis on Saturday at the Dick Burns Mat Classic at the Bonner Springs YMCA.
The Bobcats placed sixth as a team, but they brought home five medals for individual performances.
It was a day of successes, but also a day that left BLHS coach Scott Neil wanting more.
"We lost two or three matches that we shouldn't have today," Neil said. "The long break from competition, kids not making weight, you know little things. We will get them fixed in the next week or so."
Two wrestlers that showed little, if any, shortcomings were 125-pounder Symon Seaton and 152-pounder Joe Johnson. Both captured gold medals in their respective weight classes.
Seaton was the tournament champion after earning an 8-3 decision against Fort Scott's Justin Sharp in the finals. It capped a day where Seaton — the No. 1 ranked wrestler in the state in his weight class in Class 4A — posted a 3-0 record.
"It was a good tournament, but I still need to get a little more conditioned," Seaton said. "I was a little tired in a couple of matches, but other than that, it was a good tournament."
Johnson was equally dominant in his weight class while going 3-0. He defeated Zach Plambeck of Bellevue (Neb.) East, 4-1, in the finals.
The championship was the latest big step forward for Johnson in a season where he has improved by the week.
"At the beginning of the year, I wasn't wrestling very smart; I was doing stupid stuff," he said. "Now I've got my act together, and I'm just wrestling a lot smarter and training better."
Mike Torrez advanced to the 103-pound finals before finishing second. At 140 pounds, Derek Pike earned a 2-0 overtime victory in his last match of the day and placed third. Zach Wilson also medaled as a fourth-place finisher at 285 pounds.
Basehor-Linwood next competes at noon Friday at home at the Bobcat Classic.