Fees considered for full-day kindergarten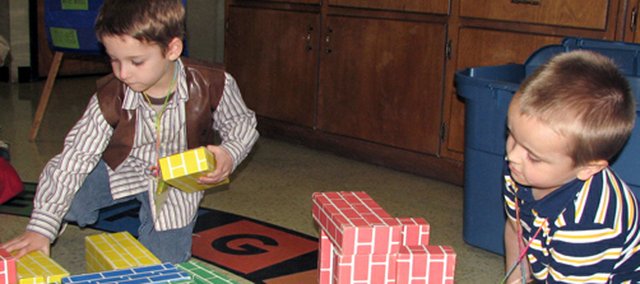 The Basehor-Linwood School District is getting closer to a resolution on offering full-day kindergarten district-wide.
Monday night, Assistant Superintendent David Howard presented information in support of full-day kindergarten to the Basehor-Linwood School Board members.
Howard said that when the school district began full-day kindergarten classes this year at Linwood Elementary, it did so on a trial basis. He said that looking at the responses of students, teachers and parents, the district wanted to provide full-day kindergarten at every elementary school.
The glitch in the plan, Howard said, came when district officials reviewed the state budget.
"In light of budget cuts and district concerns, we have to offer all-day kindergarten as a fee-based program," Howard said. "We only have funding for half-day kindergarten. Extend that to a full day, and we're talking about adding two and a half teachers, with the total cost at a minimum of $100,000."
Howard proposed the program be offered to parents for a cost of $30 per week. Students who received free or reduced lunches would have a lower fee or no fee at all, depending on the circumstances. With the $30 fee, Howard said the district could pare its costs for full-day kindergarten by about $80,000. He added that $30 was significantly less than some surrounding schools with fee-based kindergarten.
"Gardner and Spring Hill offer all-day kindergarten for $60 per week, and Olathe offers it for $216 per month," he said.
Students whose parents chose to not enroll them for a full day still would be able to attend a half-day of kindergarten.
Board President Randy Cunningham said he was against having a fee for the program.
"In my mind, there's an issue of unfairness here," Cunningham said. "Some folks aren't going to be able to pay this, and they might think that their child is being left behind because they can only afford for them to go half a day."
Board member Patrick Jeannin said it was less fair to deny everyone the opportunity to enroll their children in a full day of class.
"The alternative to having some people possibly left behind is having everyone certainly left behind," Jeannin said. "That would be a tragedy."
Cunningham said he favored the program, but was nevertheless against providing it with a fee attached.
"I applaud you for what you're trying to do here," he said to Howard. "I just don't want to see one kid left behind."
Board members decided to discuss the issue further at their next meeting, Monday, Feb. 9. Jeannin requested that before the meeting Howard gather some information on the terms of free and reduced lunches for students in the district in order for the board to clearly see how the kindergarten fee might be adjusted for those students and their families.
Also on Monday, board members:
• Discussed some information regarding the estate of Irene Kiester. Kiester included USD 458 in her last will and testament. The board will use the fund to create two scholarships.
• Heard from Superintendent Robert Albers that three people had filed for school board positions. Richard Zamora and Leigh Farris filed for position 5, – Jeannin's current position – and Gary Johnson filed for his own position. No one has filed for position 4.
• Discussed legislative issues for 2009. Albers said Gov. Kathleen Sebelius was doing all she could to not cut school budgets. He also said USD 458 saw an increase in enrollment last year, so it was in better shape to keep its current amount of funding.
• Heard about the winning calendar design for 2009. Director of Curriculum and Instruction Sandy Guidry presented the winning calendar, saying it received twice as many votes as the runner up. Board members will approve the calendar at next month's meeting.
• Reviewed the telecommunications bid. A contract with Sunflower Broadband in the amount of $858,507 will be ready for the board at the February meeting.
• Discussed the effectiveness and efficiency surveys. Albers said that students, staff members and parents would soon be completing a four-page survey to assess the work of the school district. Albers said the questions ranged from how old the student was to the person's opinion of teachers.
• Discussed the next bond sale. John McArthur of Oppenheimer & Co., the district's bond counsel, can offer $10 million in bonds. A special meeting will be scheduled at the end of January to approve the bond sale. Albers said that when setting the date for the meeting, he would try to avoid Jan. 27, Jan. 29 and Jan. 30, because of board members' scheduling conflicts.
• Discussed job descriptions for maintenance positions. The board decided to complete the descriptions at next month's meeting.
• Discussed improvements to the baseball field. Howard said it would take about $13,000 in turf and equipment repair for the field to be playable. It would cost about $100 per game to transport players to different fields. Board members were in favor of paying for the repairs to the field. Cunningham took a moment to explain that this money was different from funding for full-day kindergarten. He said that the district couldn't fund the kindergarten program if it wanted to, and the baseball field funding was different money.
• Heard a construction report from Chris Claflin that all projects were making good progress. He said the middle school project had received a building permit on Jan. 2, and Miles Excavating started work right away.
• Heard from Albers that the district's Project Lead the Way had been chosen to present at the Kansas Exemplary Educators Network conference in February. He added this was a great honor and the district was proud of the project.
• Approved, 7-0, Board of Education Policy chapter M for the first reading.
• Approved, 7-0, Board of Education Policy chapter L for the final reading.
• Approved, 7-0, the School Reach contract renewal for 2009 in the amount of $4,512.50.
• Approved, 7-0, the job descriptions for custodial positions.