Library group gives outlet to Basehor writers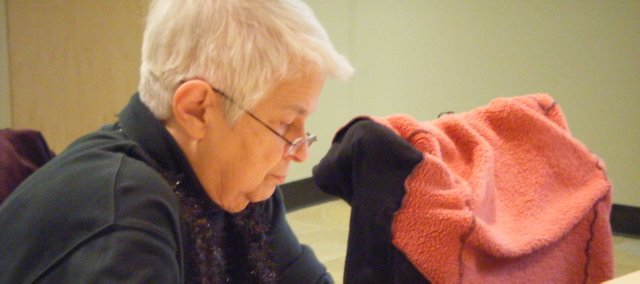 Saturday was a quiet morning at the Basehor Community Library. Only the soft murmur of voices and the sound of pencil on paper could be heard inside the doors.
On this morning, the library's writer's group had its monthly meeting. The group serves as a simple way for members of the community to get a little informal writing time.
"We're not writing about anything serious," said Laura Carroll, adult services librarian. "We aren't writing novels or memoirs or anything like that. It's just for fun, and we don't criticize anyone's work."
This is the second meeting that Carroll has conducted since she became the new adult services librarian late last year, but the group had been meeting for more than five years before she came to the library.
The group meets from 9:30 a.m. to 11 a.m. on the second Saturday of each month.
At the start of each session, Carroll asks that everyone write freely for five to 10 minutes.
"Just write about whatever you'd like," she instructed. "But don't make it too personal because we'll be sharing these when you're done."
After this activity, the group writes from a few prompts prepared by Carroll.
On Saturday, the women at the group wrote about a significant event from their holiday celebrations, and they then described their favorite rooms in their houses.
Basehor resident RoJean Mustain said she had been coming to the writer's group for a long time and that it was good practice for the writing she did during her spare time.
"I started out having a lot of experience with books and publishing through various jobs but no real experience writing," Mustain said. "Now I write here (in the group), I write some family genealogies, and I recently just wrote down a detailed account of the bathroom that was in the house where I grew up. I thought it would be nice for my kids to have and read later on."
Carroll participates in all aspects of the writing sessions, reading her work aloud for everyone else to hear.
"It's a nice way for us to get some ideas going and talk to each other," she said.
The women all took turns jotting things down, and listening and laughing as they shared a few pieces of their lives with each other.
Anyone can be a part of the writer's group Carroll said, and the library encourages everyone who is interested to come ready with pen and paper next month.
"You don't have to be an exceptional writer," Carroll said. "That's not what this is about. We just get together to practice writing and to talk."
For more information about this program or any of the other programs at the Basehor Community Library, call the library at (913) 724-2828 or go to the Web site basehorlibrary.org.