Bobcats dominate rivals from Bonner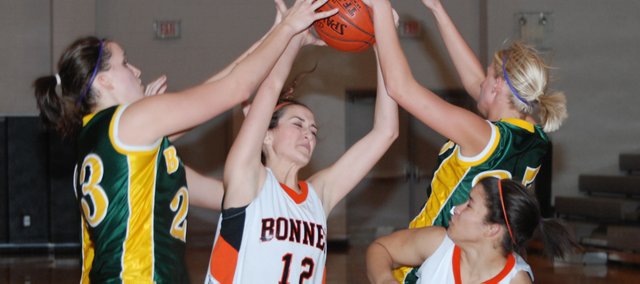 The Basehor-Linwood girls dispatched their nearest rival in dominating fashion Friday night with a 37-20 victory over Bonner Springs.
Despite losing four starters from last year's team that are all playing college ball, the Bobcats, coached by Noah Simpson, moved to an unblemished 7-0 record.
The Bobcats jumped out to an early first-quarter lead and never looked back. Senior Bren Koontz scored the game's first basket with an uncontested layup and junior Cassy Bever nailed a long 3-pointer to go up 5-0 in the first couple of minutes. Basehor added another basket after senior Amber Jeannin stole a pass and flipped the ball to a streaking Koontz for another layup. She drew a foul on the play and knocked in the free throw to make it 8-0.
With just a minute remaining in the quarter Bonner's Anna Hutchinson put back a Lynsey Ostman miss for the Bravettes' first points of the game. Basehor ended the quarter with a long jumper by sophomore Megan Bergstrom that just beat the buzzer giving the Lady Bobcats a commanding 10-2 lead.
The Bravettes missed all but one of their first 14 shots against a stout Bobcat defense.
BSHS picked up momentum in the second quarter as Malia Williams scored 8 points and pulled the Bravettes close. Basehor heated up again late in the quarter, however, and led 21-10 at halftime.
The teams combined for 7 points on 3 of 19 shooting and headed to the fourth quarter with Basehor leading 25-13. The Bobcats reeled off 6 quick points to start the fourth quarter, effectively putting the game out of reach.
"We did a good job at spreading the ball around tonight," Simpson said. "However, at times we were a little too unselfish. I think we can really improve at taking the open shot when it's there."
Koontz led the way with 15 points, Bergstrom added 10 points and seven rebounds.