New Basehor-Linwood middle school construction makes up for lost time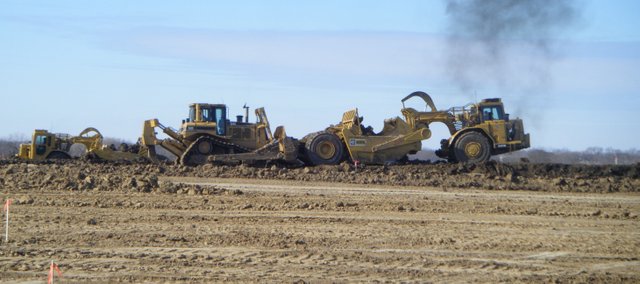 Despite the long process obtaining a building permit, construction for the new Basehor-Linwood middle school is moving ahead of schedule.
On Oct. 28, the Basehor-Linwood Board of Education and Basehor-Linwood staff broke ground for the new school to be located in the center of the district across from Glenwood Ridge Elementary on 158th Street.
Miles Excavating has been working on the site since the beginning of January.
Steve Miles, president of Miles Excavating, said that, as of Tuesday, the workers had made a lot of progress on site work.
The company was contracted, Miles said, to complete a certain portion of the construction, including the pad that the $24.8 million school will be built upon, along with site grading and detention ponds. Site grading is the process whereby the slope of the ground is adjusted to allow proper drainage. Detention ponds are low-lying areas that temporarily hold a set amount of water while it drains into another area. Such ponds serve as flood precautions.
Construction started with the creation of Conley Road, which gave workers access to the building pad, Miles said.
"This was followed by the building of the site pad and site grading work, which involved moving 76,000 cubic yards of dirt over a period of two weeks, which places Miles Excavating well ahead of schedule," Miles said.
By the end of the week, Miles said, the detention ponds will be completed.
Because of issues involving the sewer system, the building process had previously been set back. Construction supervisor Chris Claflin announced at the Jan. 12 school board meeting that a building permit had been granted on Jan. 2, and construction had commenced immediately afterward.
Students in grades six through eight will attend the school with a maximum capacity of 700.
The building will include two gymnasiums and practice athletic facilities and is expected to open for the 2010-2011 school year.