Storyteller presents picture of civil rights leader's life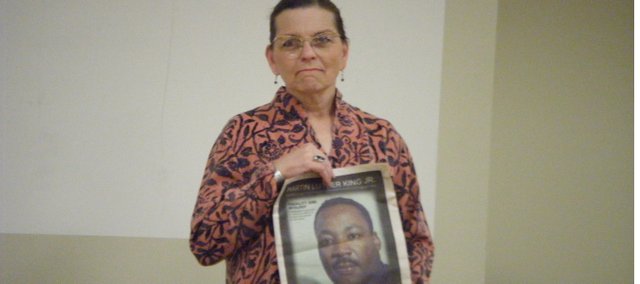 Storyteller Joyce Slater's eyes glistened behind her gold-rimmed glasses. She pressed play on a small stereo, and a familiar voice emerged from its speakers.
In her hands, she held a picture of the man who sent shockwaves through the nation with four unforgettable words: "I have a dream."
Men and women of all ages gathered at the Basehor Community Library on Saturday afternoon to hear Slater recount pieces of the life and visions of Martin Luther King, Jr.
"How many of you can tell me something about Martin Luther King?" Slater asked the audience.
"He was a leader," said Mayor Chris Garcia, who attended the event with his family.
A little boy in the crowd wiggled in his chair and said, "He drank water."
Slater chuckled and responded, "That's exactly right. He was a human being who drank water."
Slater said there was a side to King not many people knew existed. When King was a child, she said, he enjoyed creating mischief.
"Martin was depicted as a serious child with his nose always in a book," Slater said. "But he wasn't always like that. He liked to play tricks."
She described a time when King snatched his grandmother's mink stole and fashioned it on the end of a long stick. Slater said he would crouch down by the street at night and thrust the furry stick onto the sidewalk in front of unsuspecting couples.
"Those people would shriek with fright, and Martin thought that was pretty funny," she said.
But much of King's childhood was not fun and games, Slater said.
Slater said that the mother of King's closest friend banned King from playing with her son because he was black. Both children were devastated by the loss of their playmate, she said.
"They remembered what it was like when they were friends, before someone told them that they were enemies," Slater said.
King's father tried to isolate him and his siblings from the world, Slater said, because he knew the pain that lay outside for a black person.
"And we're not over that yet," Slater said. "We've come a long way, but we still have far to go."
Slater said that not long ago she lived in a segregated world. When she attended college in Warrensburg, Mo., in 1966, there was only one restaurant in town that would allow her to eat with her black friends.
"It was called the Burger Bar," she said, "And it was the only place that let us have a meal together."
The concepts of skin color in those days, Slater said, were completely backward.
"If you were black, we didn't want you to eat with us, but we'd let you cook our food," she said. "We didn't trust you for anything, but we'd let you watch our kids. How much sense does that make?"
Now, Slater, who has been professionally telling stories for more than 20 years, travels around the country, bringing people together through tales of fact and fiction.
Throughout Saturday's program, Slater involved the audience. She set up a demonstration of the day Rosa Parks refused to give up her bus seat for a white person. She lined up the chairs in the formation of a bus and guided volunteers in acting out the events of that historic day.
Slater then asked if anyone in the room had ever felt the effects of discrimination. Several people raised their hands and told stories of discrimination and stereotypes ranging from skin color to gender to hair color.
Those accounts were proof that society still had a lot to learn from people like King, Slater said.
"We can't let people like Dr. King disappear," Slater said. "We can't let their memories disappear. We have to continue thanking them, and we have to remember that just like the census takers say, everyone counts."