Bobcats roll to tourney title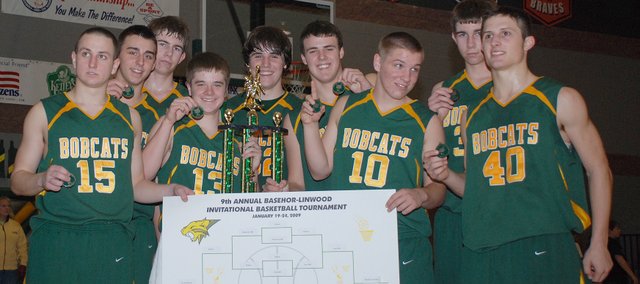 The Basehor-Linwood boys basketball team put another trophy in the case Saturday night, winnings its second consecutive home tournament title.
The Bobcats defeated Park Hill High School, 59-45, in a game where they were never challenged. Basehor-Linwood led 15-5 at the end of the first quarter and played most of the game with a 10-point lead.
The Bobcats led 30-20 at halftime and rolled to the victory.
While BLHS controlled most of the game, the title game was more of a workmanlike performance for the Bobcats.
"It felt a little flat tonight; we kind of fought through it all," coach Mike McBride said. "We got a 10-point lead and then kind of hung on. It seemed like they made a run and then we kind of pushed it back up on them. That is kind of a good team. That is nice."
Chandler Schaake led the Bobcats with 20 points and was the tournament Most Valuable Player. Richie O'Donnell scored 15 points and Ryan Murphy finished with 10 points.
The team's other scorers in the game were: Tanner Bowers, 5; Colin Murphy, 4; Mark Vaca, 4; Anthony Pierce, 1.
A complete tournament recap will be included in this week's edition of The Sentinel.