Senator describes state budget as 'ugly' during legislature update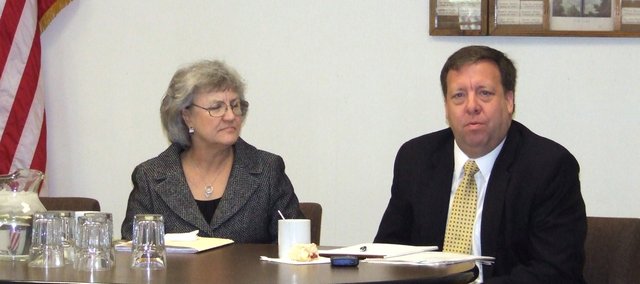 State Sen. Tom Holland spoke with straightforward honesty Saturday morning when he told a group of Leavenworth County residents that the state budget is an "ugly" situation.
During a legislature update event hosted by the Veterans of Foreign Wars Post 9271 in Tonganoxie, 3rd District state senator Holland and 42nd District state Rep. Connie O'Brien addressed about 15 audience members about what is in the future for the state budget.
"We have a really serious problem. I believe that for far too long the government and individual people have been living on credit cards," Holland said. "And now the chicken has come home to roost."
That chicken would be a deficit in the hundreds of millions that is facing the state budget, and now it's the job of senators such as Holland to find a way out. Holland said that the state is looking to find anywhere from $200 million to $300 million to cut from 2009 budget, which has five months left.
"None of these cuts are easy to do," Holland said. "Everything is really ugly."
Holland said the state is hoping to hold schools harmless, at least for the 2009 budget year. He said because schools have already set their budgets and signed contracts for 2009, it would be "devastating" to them to make any significant changes.
But 2010, however, may be a different issue. Holland said that the $149 million increase in school funding that was approved last year by the legislature will not go through.
Regardless of what cuts occur, Holland said the government needs to maintain a rational basis for how schools are funded. He said money can't be taken away from random places, pointing out that the lack of a rational basis for how schools are funded in Kansas got the state in trouble with the Supreme Court once before.
"No matter what we do, we better be darn sure we do it with the formula," Holland said of the system that determines how much each district receives. "I think that's potentially where we could run afoul in the courts."
Instead of schools, initially, Holland said the government is looking toward agencies that are not part of the general fund as well as local governments as places to make cuts. Holland said Gov. Kathleen Sebelius also suggested grabbing the liquor taxes that local entities receive.
"There are no easy answers here and no easy solutions any way you look at this," he said. "There's going to be hurt regardless."
Holland said one of the biggest debates taking place between Republicans and Democrats right now is how those cuts should be made. Whether it be with a percentage cut across the board or by looking at each fund individually, Holland said he's hoping for a more cerebral approach.
He said when families are looking at their personal finances and budget, they don't just make cuts in every fund. Instead, they take away from what they determine to be less important and maintain funding for the necessities, which he said is the same approach the state should take.
Despite the serious, almost depressing, topic of the morning, Holland tried to end the discussion with a few words of encouragement.
"We'll bounce back, but nobody knows when that'll happen," he said.