BLHS

boys have bigger goals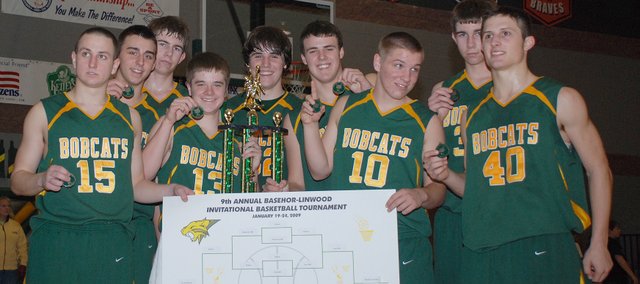 Basehor-Linwood seniors Tanner Bowers and Chandler Schaake walked out of the boys basketball team's locker room on Saturday fresh of a 59-45 win over Park Hill High School.
Schaake was the tournament's Most Valuable Player. He was happy with the win, but not overjoyed by it.
"It was a blast, but not our goal," Schaake said of the postgame trophy that was presented and the cheers the student body game them.
No, the goal is making continuous improvement as a team in preparation for the sub-state tournament. From there, the goal is to win sub-state and then, possibly play for a state title.
With those goals in mind, a midseason tournament title isn't a complete cause for celebration.
The Bobcats' postgame celebration was a stark contrast to last season when both the girls and boys teams had won the tournament and took ladders to separate goals to cut down nets.
Saturday, though, was more businesslike. Players received the championship trophy and posed for pictures. They ran through a tunnel of fellow students. Yet, as they celebrated, they felt like more work needed to be done.
The Bobcats are on a five-game stretch and the tournament championship victory over Park Hill was just one game in it.
"I talked to our guys about five games and not worrying about the tournament if we lost," coach Mike McBride said.
The team played Mill Valley on Wednesday night and results will be available online at Basehorinfo.com. The Bobcats defeated Lansing 52-45 on Tuesday. However, winning a midseason tournament and playing five games in a 10-day stretch will define a team's season.
Through 10 games, McBride said the team has found the right mix, rather a delicate balance, between twin freshmen who can score at will and seniors who are willing to distribute the ball to them while taking shots from the outside.
There aren't a lot of egos on the team, McBride said.
"I like that about the team," he said. "Not a lot of seniors would allow two freshmen to come in and dominate. There are no hard feelings; there is just a whole different persona to this team."
Players are buying in to the system, but acknowledging a lot of work needs be done. Basehor-Linwood peaked after the Bobcat Invitational last season, and players are working to ensure that doesn't happen again, Bowers said.
"Last year the team had opponents gunning for them," he said. "This year, we are sort of flying underneath the radar. Everyone expected it to happen last year; this year people expect less, but we want to go get it."
Expectations aside, the Bobcats simply have to keep playing basketball the way they are capable of, McBride said.
"We have 10 games to get better at the little things," he said. "We now have a goal and want to achieve that goal."