Bobcats fend off Jaguars
Bowers' five 3-pointers ignite offense to victory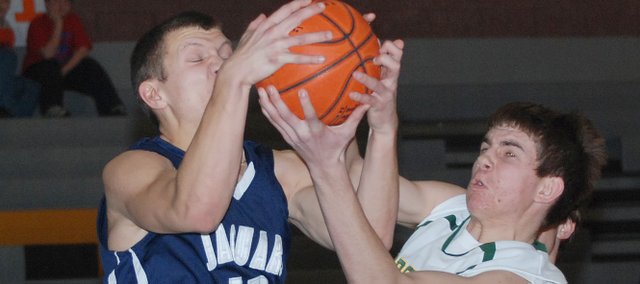 In a back-and-forth battle between two fatigued teams, a nine-second span turned Wednesday night's basketball game in Basehor-Linwood's favor.
BLHS capitalized on a technical foul in the fourth quarter and made six free throws as a result of it during a come-from-behind 64-56 victory at home against Mill Valley.
The victory capped a stretch where Basehor played five games in 10 days and won all five.
"It just shows maturity right now," BLHS coach Mike McBride said of his team's ability to overcome fatigue to win five tough games, the stiffest of the challenges coming from Mill Valley. "Coming into the season with a couple freshmen, a couple new players here and there, a couple seniors who played JV basketball as juniors … you don't really expect all this to happen. But when you take great kids that take care of business on and off the court, they don't go out and get in trouble, they hang out together, they do work in the classroom and listen to every single thing we've done over the last four years, it obviously gives them a lot of confidence.
"I knew for two weeks it'd be tough tonight. I knew we had to fall off somewhere, so to come through all those without getting a loss is obviously a big tribute to these kids."
It was a moment of immaturity on Mill Valley's part that turned the momentum in Basehor's favor.
Mill Valley — which was playing its fifth game in seven days — held a 45-40 lead with 7:08 left in the fourth quarter. A 3-pointer by Tanner Bowers trimmed the deficit. Moments later Bowers made a layup and Clint Schierbaum sank a free throw to pull the Bobcats within 47-46.
Then, with 4:55 left in the game, Mill Valley's Kellen Kinnamon was whistled for his fourth foul. Immediately afterward he was whistled for a technical foul, giving him his fifth personal foul and handing the Bobcats four free throw attempts. Schierbaum — who was fouled — sank both of his tries. Then Chandler Schaake swished both technicals. BLHS maintained possession because of the technical, and at the 4:46 mark Schaake returned to the line and made two more free throws. The six-point swing gave Basehor a 52-47 lead and it never trailed again.
"We went from one down to five up. That obviously took the wind out of their sails a little bit," McBride said. "You hate to win a game sometimes like that, but you know what, that's basketball. We took advantage of it, and obviously our energy picked up and we pulled out a win."
Two late 3-pointers by Mill Valley's Jonathan Anaekwe and Tanner Rainbolt brought the Jaguars close, but they were unable to pull even.
The game was close throughout. Both teams traded baskets and endured seven lead changes during the first quarter. Sterling Roaf did the most damage as he scored 9 of Mill Valley's points. Basehor countered with 6 points from Ryan Murphy. Despite five early turnovers, the Bobcats trailed just 15-12 after the first eight minutes.
A jumper by Taylor Reinoehl and a 3-point play by Max Carroll gave Mill Valley its largest lead of the game at 20-12 with 6:59 left in the first half. Basehor regrouped and used patient ball movement to set up a pair of 3-pointers by Bowers and two more from Anthony Pierce. Suddenly BLHS was ahead, 28-24.
The Bobcats led 30-29 at intermission.
The second half played out much like the first. Mill Valley took the lead on its first possession of the third quarter with a jumper by Carroll. Basehor reclaimed the advantage with a 3-pointer from Bowers. From then, the teams traded buckets until a layup by Anaekwe sent MVHS into the fourth quarter with a 41-40 lead.
A Carroll lay-in and a pair of free throws by Roaf in the opening minute of the fourth quarter put the Jaguars ahead, 45-40. That's when Basehor mounted its comeback and closed the game on a 24-11 run.
"Mill Valley … gosh, they played a great game tonight," a relieved McBride said. "It was a tough game to prepare for, and to be honest with you, I'm kind of surprised we got out of here with a win tonight because I know (Mill Valley coach Justin Bogart) is a good coach and they're very disciplined, and for us not to be able to work against anything that they do … that was very important."
Bowers led all scorers with 23 points on 6-for-11 shooting, including 5-for-8 from 3-point range. Schierbaum added 9 points; Ryan Murphy, Pierce and Justin Gripka scored 8 apiece; Schaake had 4; and Colin Murphy and Mark Vaca each added 2. BLHS made 18 of 35 shots and 20 of 32 free throws for the night.
The Bobcats improved to 10-2 overall with the victory and maintain their status as the Kaw Valley League's lone unbeaten squad at 5-0. They next play Tuesday at home against Tonganoxie and then have a rematch with Mill Valley on Feb. 6.
Carroll and Roaf led Mill Valley with 13 points apiece, Anaekwe and Reinoehl each had 9, Rainbolt scored 8 and Kinnamon added 4.
The Jaguars fall to 6-5 overall and 2-3 in the KVL. They next play Friday at Turner.