Interchange ramps open to traffic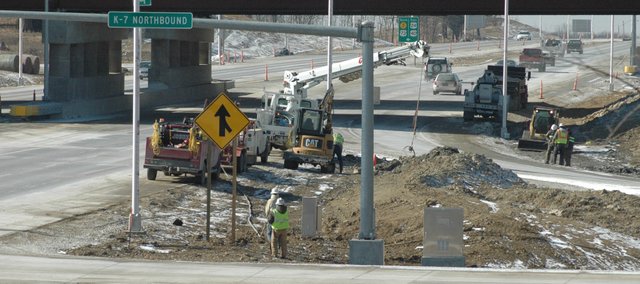 A major highway interchange used by area commuters has reopened after months of construction.
Kansas Department of Transportation officials said the rebuilt interchange at U.S. Highway 24-40 and Kansas Highway 7 was completed and ramps opened to rush hour traffic Thursday afternoon. Ramps on the old interchange were closed in March 2008. Traffic had been reduced to single lanes each direction on both highways throughout much of the construction, which began in late 2006.
The old cloverleaf interchange was replaced with a new partial cloverleaf or folded diamond interchange. Auxiliary lanes on K-7 and U.S. 24-40 were also part of the project.
APAC Kansas Inc. was the primary contractor on the $37.7 million project, which originally was scheduled to be completed in late 2008.
Dave Taggert, project manager with APAC, said a combination of wet weather and utility relocation problems during construction were at the root of the delayed reopening.
"We had a very wet season last year," Taggert said. "Then it went from wet to cold."
Taggert said there were hundreds of workers, including APAC crews and subcontractors, working on the project, with much of the work coming on weekends and holidays so that crews could get the project completed.
"It seemed at times we were getting more work done on the weekends than during the week because of the weather," he said.
In addition to the new interchange, the project included construction of new northbound and southbound bridges on K-7, new ramps at the interchange, and new pavement on K-7 and U.S. 24-40.
"It's a very nice improvement," Taggert said.
He said the work updated an interchange that was sorely in need of modernization. The new ramps, for example, have more capacity and allow better sight distances for merging traffic.
"It used to be, basically, that you either dove in or out of traffic — or you had to come to a complete stop. Now you'll be able to merge in and off with minimal disruption."
KDOT said there could be some lane closures on eastbound and westbound U.S. 24-40 through this week. For the next couple of months, there will be periodic lane closures in the project area while crews complete finishing, clean up and landscape work.