Library group discusses Kansas literature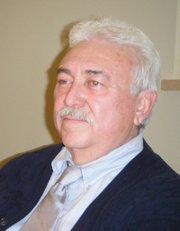 Several book lovers braved the icy weather on Monday to take part in the Basehor Community Library's Book T.A.L.K.
The "Talk about Literature in Kansas" group is sponsored by the Kansas Humanities Council and meets on the fourth Monday of each month to discuss a different book. This month, the group read a novel by Edwidge Danticat called "Breath, Eyes, Memory."
The novel is about a young Haitian woman's journey to the United States, and it fits with the library group's spring theme of contemporary immigration.
Leading the discussion on Monday was Gene T. Chavez, interim director of guidance and counseling in the Kansas City, Mo., School District.
Chavez is a member of the Kansas Humanities Council and is executive director of the Center for Intercultural Communications, Inc. in Kansas City, Kan.
Chavez and the group discussed the significance of the novel's protagonist with respect to Haitian immigration today. Chavez said that the transition to America from Haiti was not easy for most people.
"Immigration to the U.S. has long been difficult for Haitians because the U.S. doesn't have immigration policies that are very friendly to Haitians," Chavez said.
He said that most of the Haitian immigrants were economic refugees, not political refugees and that poverty had been eminent in Haiti for centuries.
"The poverty of Haiti has fed on itself and made a city in bondage to its past and unable to come out to a brighter future," Chavez said.
Haitian immigrants, Chavez said, come to America looking for jobs and hoping to find a better life.
"They take the low-paying positions and work long shifts, and the U.S. needs them," he said. "In this country, we need immigrants to work those grunt positions."
In her novel, Edwidge touches on the hardships of several Haitian women living in Brooklyn. She describes in great detail the battle that the main character faces as she is caught between two cultural worlds and strives to be independent.
The group members shared their thoughts on the book, several of them noting that the representations of Haitian culture were both enticing and disturbing.
"I saw two very different versions of Haiti in the book," Adult Services Librarian Laura Carroll said. "I saw it like a paradise with all the fruit and trees, and I also saw it as a much darker place."
Chavez said that the book not only gave him a better understanding of Haiti's culture, it also gave him greater insight into racism in the U.S.
"We still have a lot of remnants of racism in our society, and that comes through in certain places in the novel," he said. "People with dark complexions tend to be feared by white Americans."
As the discussion was closing, Chavez asked all those present to name a few ways that their upbringing was like that of the novel's main character. Chavez wanted the group members to see that there were parts of their lives that were quite similar to the protagonist's life. Each person could name at least one thing. Chavez used the activity to demonstrate that if people look past their differences, they will usually find something in common.
For more information about Book T.A.L.K, visit the Basehor Community Library's Web site at basehorlibrary.org.