Students get lesson on scholarships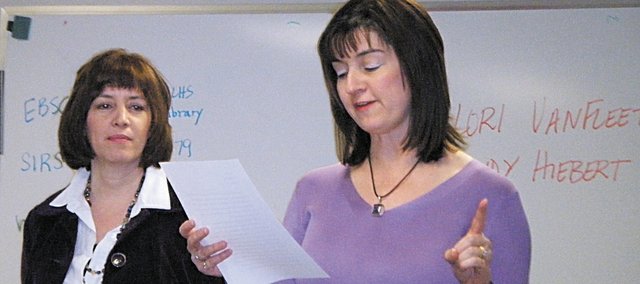 Summer seems like a distant memory with snow on the ground, but Basehor-Linwood High School seniors know that the school year is closing quickly, and college is just around the corner.
Seniors have started thinking about what school they want to attend, what they want to choose as a major and possibly more important than all else, how they are going to pay for it. Friday morning, two members of the Basehor-Linwood Education Foundation visited the high school to give seniors in Michelle Vielhauer's English classes some tips on applying for scholarship money.
Lori VanFleet, education foundation vice president and district financial manager for Sherwin-Williams, and Cindy Hiebert, foundation member and principal at Linwood Elementary School, said that scholarships were an excellent way for students to pay for college costs.
"There's a lot of potential money out there," VanFleet said.
The Basehor-Linwood Education Foundation awards more than $10,000 in scholarship money to high school seniors each year. This year, it will have eight $1,000 scholarships and eight $500 scholarships.
VanFleet encouraged all students to apply for several scholarships, no matter their GPA.
"Sometimes, scholarships aren't based on your grades," she said. "Sometimes, they're based on how much effort you put into them and how well you write the essays."
Essays for the Education Foundation scholarships haven't always been impressive.
Vielhauer said that two years ago, the foundation was disappointed with the quality of the essays submitted, and VanFleet paid a visit to the seniors in hopes of receiving superior essays in 2008.
"Lori took the time to come to the high school and talk to the kids about writing a good essay," Vielhauer said. "The results were better, and she was kind enough to come back this year. I think (the students) get a lot out of it."
Hiebert stressed the importance of filling out scholarship applications carefully.
"A committee might not even look at the applications that have blanks or mistakes," Hiebert said. "Trust me, those are usually the first to go."
Vielhauer told them to submit as many applications as they could.
"There are all kinds of odd scholarships out there," Veilhauer said. "If you're left-handed, if you have allergies, there's scholarships for that, and the numbers are staggering of how many go unapplied for."