Basehor girls edged by Mill Valley
Bergstrom nets 21, Koontz scores 20 in tough
KVL

contest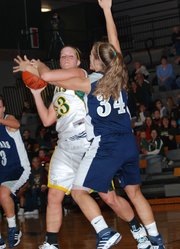 Noah Simpson knows as well as anybody that the Kaw Valley League is brutally difficult this season.
Simpson, Basehor-Linwood's second-year head girls basketball coach, has seen it first-hand.
"I've been here for six years as an assistant or as a head coach, and this is the toughest I've seen the league," he said. "I truly think there's five, six teams on any night that can win a game against anybody."
Friday night two of those teams were paired up as Mill Valley visited defending league champion BLHS, and the visiting Jaguars won a hard-fought game, 71-58.
Neither team gave an inch for most of the first half. Amber Jeannin swished an early 3-pointer for BLHS that began a series of traded baskets. After the first quarter the score was deadlocked at 12-12.
"I thought both teams came out and just fought hard," Simpson said. "It was the fastest paced game we've actually played in, and we've played some fast teams. I really liked the things we saw tonight. I just told the kids in the locker room, 'the outcome wasn't what we wanted, but I think we learned leaps and bounds above any other game we've played.'"
Back-to-back jumpers by Amanda O'Bryan and Courtney Poe gave Basehor its largest lead of the night at 20-16 midway through the second quarter.
The Jaguars dominated the final four minutes of the half, however, forcing six turnovers with feisty pressure defense and unleashed a 14-2 run that was sparked by a pair of 3-pointers by Emily Altman. Whitney Hartman also sank a 3-pointer during the run, Becky Newhouse scored on a coast-to-coast layup off a steal and Erin Graviette closed it out with two free throws.
Mill Valley led 30-22 at halftime.
It the Jaguars thought that lead was safe, Megan Bergstrom had different ideas. The 5-foot-10 forward scored three quick baskets in the third quarter and had BLHS within 33-28.
"She hit the first couple and I knew we could go back to her," Simpson said. "She just had a tremendous quarter."
Mill Valley responded to the challenge. A baseline jumper and a 3-point play by Altman and two buckets and two free throws from Nicole Garretson stretched the Jaguars' lead to 44-32 with 3:56 left in the third quarter. A few more buckets by Bergstrom — she scored 14 points in the quarter on a blistering 7-for-9 shooting — kept the Bobcats close.
"The scary thing is she's just a sophomore so I'm going to see her for a few more years down the road," Mill Valley coach Diana Krull said of Bergstrom. "The nice thing is my (number) 40, Nicole, put us on her back tonight and carried us. She's just a junior so they're going to get another game to battle each other."
A trey by Jeannin at the 1:49 mark axed the deficit to just 45-42. MVHS briefly extended the lead with two more free throws by Garretson and another jumper by Altman. Bren Koontz was fouled on a 3-point try at the buzzer, however, and she sank all three of her free throws.
On the opening possession of the fourth quarter Koontz scored on a runner. That tugged the Bobcats within 49-47 with 7:09 to go.
"It was a great run. I thought we did a really great job of being efficient offensively," Simpson said of his squad's strong rally. "We did a great job of just getting the ball for scoring opportunities. But we did a better job of hustling. I thought we got outhustled in the first half. I definitely don't think we did in the second half. I thought we played our hearts out in the second half and gave everything we've got."
Moments later, Bergstrom fouled out. Garretson — Mill Valley's 5-foot-10 center — capitalized by scoring the Jaguars' next 6 points. A jumper by Altman and two free throws and a turnaround jumper by Katie Maybell helped Mill Valley extend its lead.
"The nice thing about it is my girls know basketball's a game of momentum. It's going to change here and there," Krull said. "The thing about is when we lose momentum and they've got it, you've got to make for certain that they don't have it for very long and we get it right back. I think we're maturing in that area. Basehor's an excellent team. They know how to win. It was proven last year. There's girls on that squad that are back from a winning team like that, so we knew it was going to be a battle from the tip-off and I think just mentally and physically we got ourselves prepared."
With Bergstrom out of the lineup, Koontz slid from the guard position into the post and scored 10 fourth-quarter points that kept the Bobcats in striking distance. Mill Valley made its free throws down the stretch, however. The Jaguars went 8-for-8 in the final 2:24 — Hartman, Graviette, Altman and Newhouse each sank a pair — to put the game away.
The loss was Basehor's fourth straight after an 8-0 start. The Bobcats aren't licking their wounds, however.
"I told the kids last week, 'this is a learning process. Do we want to play perfect in game 12 or do we want to play perfect in games 21 through 26?'" Simpson said. "I told the kids you can't let yourself think that this is tough times or anything. This is time to learn and we're learning a lot, and I'm proud of the kids for sticking with it and learning through it."
Mill Valley made 24 of 30 free throws for the night, including 8-for-8 by Garretson.
Bergstrom led BLHS with 21 points and Koontz scored 20. Also for the Bobcats, Jeannin had 6; O'Bryan had 5; and Kara Douglas, Poe and Pierce each added 2.
Altman scored a game-high 22 points for Mill Valley, Garretson had 18, Newhouse scored 11 and Hartman added 10. In addition, Graviette and Maybell each had 4 and Erika Wheeler chipped in 2.
Mill Valley (5-6 overall, 5-0 KVL) next plays Tuesday at home against Santa Fe Trail.
Basehor (8-4, 3-2) plays Tuesday at home against Tonganoxie.