Neighboring cities prepare for Fourth of July celebrations and fireworks shows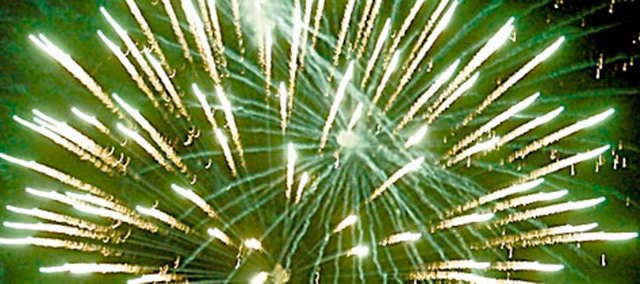 Communities across the area will be playing host to Independence Day celebrations this weekend. Here's a look:
• Lawrence will have a fireworks show in conjunction with a festival, which begins at 3 p.m. at Watson Park, Sixth and Kentucky streets. Fireworks will begin around 9:30 p.m.
• McLouth will have a fireworks show at 9:40 p.m. Saturday at Stan Braksick Sports Complex near the high school.
• Basehor will be host to several events Saturday. A parade will begin at 6:30 p.m. at the corner of 155th Street and Leavenworth Road. A fireworks show will begin at 9:30 p.m. at the lawn of the Basehor-Linwood High School.
• Fort Leavenworth will have a celebration starting at 4 p.m. Saturday at Merritt Lake that will include a kids zone, car show, live music and food concessions. The fireworks show will begin at dusk.
• Lansing will be host to a show Saturday at dusk at New City Park, about 1.5 miles west of Kansas Highway 7 on 4-H Road.
• Eudora's parks and recreation department will sponsor a fireworks show Saturday at dusk. The show will be shot near the Eudora Middle School, south of Kansas Highway 10. The parking lots at the middle and high schools will be open for spectators.
• De Soto's July 4 celebration will be at De Soto Riverfest Park, 33630 W. 79th St. Food and drink vendors will be on hand at 6 p.m. Live music will start at 7 p.m. The fireworks display will start at about 9:45 p.m.