Public works department aims to conserve, applies for grant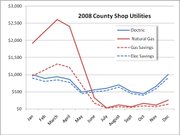 With the cost of energy continuing to rise and budgets beginning to tighten, the Leavenworth County Public Works Department is looking for ways to cut back on spending and its consumption of resources.
And with the possibility of $3.2 billion in Energy Efficiency and Conservation Block Grants available through the American Recovery and Reinvestment Act, the public works department may be on its way to reducing its carbon footprint.
Earlier this month the public works department completed its grant application and is now waiting to hear back from the Department on Energy to see if it will be the recipient of $300,000 to make the county a little greener.
Mike Spickelmier, public works director, said he was in favor of anything the county can do to conserve resources.
If awarded the grant money, the department plans to install a new and more efficient chiller at the Leavenworth County Justice Center and a 2-kilowatt wind turbine and used oil furnace at the county shop.
"Anytime you change the oil in a vehicle or county equipment the oil is currently just hauled off," Spickelmier said. "We are going to use it to produce heat for the shop and hopefully reduce the amount of natural gas we use during the winter."
The shop will be supplementing the energy from the used oil furnace with natural gas, but Spickelmier expects to save 50 percent on the shop's natural gas bill. In 2008 the county spent $11,648 in natural gas.
John Forslund, building and grounds director for the department, said they have to keep the vehicle bays at the county shop warm enough so fluids and lubricants don't freeze, but "guys aren't working out there in short sleeved shirts."
The $17,000 wind turbine is expected to supplement the shop's electrical needs, especially during the summer time when energy consumption is the highest.
Spickelmier said the shop's location was ideal for a wind turbine.
"It's on top of a hill and it's fairly windy out there," he said. "We've done some preliminary tests up there and we expect to get good flow."
Spickelmier said wind power can be inconsistent at times, but he expects to see at least 10 percent energy savings from the generator. In 2008 the county spent $8,649 in electricity. He expects there to be a return on investment of the two units at the county shop in about six years.
Forslund said he expects to hear back about the grant money by September. If the department were awarded the money, projects would start immediately.