Basehor businesses receive awards of recognition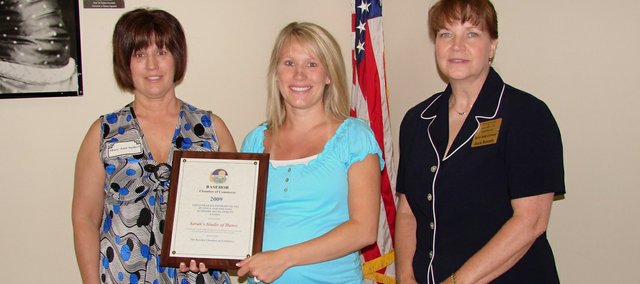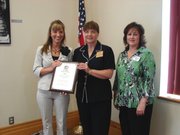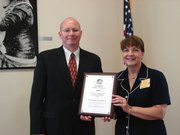 Several Basehor businesses were recently honored as part of Business and Industry Appreciation Month, designated by Gov. Mark Parkinson.
At a June 16 luncheon sponsored by the Leavenworth County Development Corporation, Leavenworth Main Street Inc. and the chambers of commerce for Basehor, Leavenworth, Lansing and Tonganoxie, the Basehor Chamber of Commerce gave awards to the Medicine Store, Sarah's School of Dance and New Beginnings Ministry.
President of the Chamber of Commerce Gayle Runnels said the chamber chose these three businesses because each was expanding, offering employment opportunities and giving back to the community.
She said the Medicine Store, 15415 Pinehurst Dr., came to Basehor from Tonganoxie and created jobs in the city and provided a needed service.
"The store's new building is great," Runnels said. "And they've given the city a convenient pharmacy."
The Medicine Store opened in November 2008 and business has been steady since it first began operating.
Pharmacist Holly Sebree-Gripka said she and the rest of the staff were happy to hear the Medicine Store was going to receive an award from the chamber.
"Gayle sent us a letter, and we felt very honored," Sebree-Gripka said. "It was nice of the chamber to do this and honor new businesses, because it's not easy starting a new business, especially at this time."
Sebree-Gripka said the award was also beneficial in possibly spreading the word about the store's existence.
"I still think a lot of people don't know we're here," she said. "We've had a really good response, but we're still trying to get the word out. We're excited to be here, and we hope people are excited about it, too."
One of the goals of the store is to maintain small-town charm and excellent relationships with its customers, Sebree-Gripka said.
"We want to be thought of as that friendly hometown pharmacy," she said. "We have a drive-thru for our customers' convenience, and we take the time to talk to people. We really value customer service."
Sarah's School of Dance, 14500 Parallel Road, contributes to the community through entertainment and available opportunities for Basehor youth to get involved with dance, Runnels said.
"Sarah's has grown a lot," Runnels said. "They provide entertainment to the community through performances like the one at Dairy Days."
Owner of the studio Sarah McArdle said she was pleased with the award because it was a symbol of how far her business had traveled.
"We were hoping to maintain the same amount of kids as the previous studio, and we ended up doubling in size," McArdle said. "We've done a lot in the two years we've been there."
The presentation of the award was meaningful to McArdle because it came from the people of Basehor.
"We really like being part of this community, and to be honored by the community like that, it's a big deal," she said.
Runnels said New Beginnings Ministry, 2706 N. 155th St., had been an asset to Basehor.
"They give a lot to the community," she said. "They gave backpacks to the kids and organized the Easter egg hunt. They just do a lot to better the community."
New Beginnings Ministry was not available for comment.