Basehor-Linwood athletes pumped for summer conditioning program
Participation reaches record numbers as 'Cats seek progress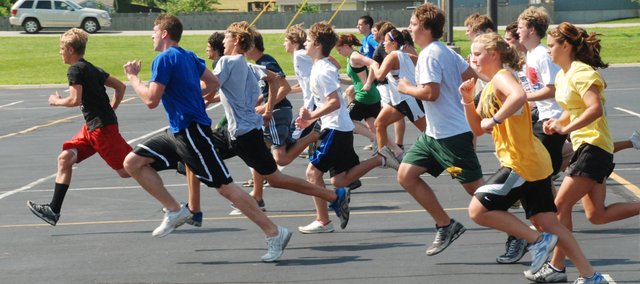 It's mid-morning on Thursday, and the temperature is already in the low 90s.
It's cool and comfortable compared to the previous three days, but this July 25 day is muggy nonetheless.
The lunch hour is nearing, and about 40 teenagers are lined up in the parking lot at Basehor-Linwood High School. Moments later, they're off at a dead sprint. After about 50 meters they touch a line and race back the other way as BLHS strength and conditioning coach Ross Schwisow barks out encouragement and calls out the seconds on his stopwatch.
As the athletes take a short break to catch their breath, Schwisow looks over with a grin.
"You should've been here earlier," he says. "We had about 140 kids out here."
This is the fourth session of the day, and it's shaping up to be a normal week for Schwisow's summer program. He's averaged a record 240 kids per day this summer with a single-day high of 310.
"That was early on," he says. "I knew that we'd peter off because kids will show up for a while, and then it'll get real hard and they'll drop off. But we've been real steady at about 240 kids, give or take a little bit, for the first three weeks."
FOUNDATION IN PLACE
Summer workouts didn't used to be so crowded at BLHS.
The weight room was active four years ago when Schwisow first arrived at BLHS, but the summer program was nothing like it is today.
"I would say that first summer the most we had in a day was 137," Schwisow said after checking his attendance archives on his laptop. "We averaged around 110-120 a day that first summer."
On particularly hot days — such as what the area has experienced for much of the past two weeks — those numbers were much smaller, BLHS senior Megan Rehm recalled.
"I don't think four years ago it would've been like this. Not that many came," she said. "And now, out here in this heat, we all seem to just come and get the work done because it helps during the fall."
While the summer of 2006 laid the foundation for the strength and conditioning program as it is known today, the program itself is viewed as the foundation for all of the sports teams at BLHS. Athletes from every sports program — and even some nonathletes simply wanting to get in shape — participate in the program. Coaches from every sport spend time helping Schwisow oversee drills and the weight room.
As the program has grown in popularity, on-the-field success has followed suit. Basehor has had numerous successful seasons of boys soccer, the football team has made back-to-back appearances in the Class 4A state playoffs, the girls basketball team advanced to the state tournament in 2008 and the BLHS boys basketball team won the 2009 state championship. In addition, the school's powerlifting team has seen participation skyrocket and the girls have won back-to-back state titles.
DO THE JOB RIGHT
Structure is a critical element to the program.
"When I was a freshman in high school going in the weight room, we had seniors that threw too much (weight) on a bar. The first lift we did was bench, which was stupid, and then they laughed at you because you couldn't do it," Schwisow said. "We don't do that. It's 'go with them. They'll teach you.'"
Upperclassmen teach newcomers the proper technique for lifting and set a good example of how to do speed and agility drills properly. In addition, alumni are welcome to participate in — and help lead — the program. About 25-30 are involved this summer.
While the older athletes are expected to set the tone, Schwisow is in charge at all times, barking out instructions, constructive criticism and lots of encouragement during the four-day-per-week program.
On Mondays, power training and conditioning testing take place. Tuesdays are for speed and agility training with apparatus such as power chutes and speed bands. More conditioning testing takes place on Wednesdays while cross country runners log extra mileage. On Thursday's, it's back to explosive lifting and agility training.
There's also a new twist this summer: an hour-long competition Schwisow calls "game day."
"On game day they partner up one person against another person for 60 minutes and they compete in events. They go through stations, and at the end of the day one person won, one person lost, plain and simple," Schwisow said.
Thursday was the first "game day" of the summer. Siblings were paired head-to-head, as were older athletes and younger athletes.
In one instance, incoming freshman Zach Sawalich was paired with 2008 BLHS graduate Scott Ogilvie. In another, senior Zach Ross — the starting center on the football team — was paired against 2008 BLHS graduate and Butler County Community College offensive lineman Swede Johnson.
Schwisow demands that everybody not just show up, but that they flat-out compete every second of every workout. He calls them out for pacing themselves on sprint workouts, and he is quick to congratulate those he sees pushing their individual limits, regardless of skill level.
Ogilvie said everybody benefits from the program's structure.
"(Schwisow's) really intense. He really pushes you," Ogilvie said. "If I just went to a gym, I wouldn't be pushing myself as hard. It benefits everybody a lot. Particularly with me, he developed my speed so much better than anything else."
RESULTS, RESULTS, RESULTS
For student-athletes at BLHS, the reward for the early mornings and hard work in the summertime sun come during the school year. They begin their season in better shape, which allows the Bobcats to focus more of their time on strategy and less on conditioning. They also expect to be more successful because they've put in the work necessary to make it possible.
"It helps out on the playing field," Rehm said of the summer conditioning. "It's an advantage for us."
Schwisow calls the program a "weeding out process" for coaches, too. At the end of the summer, coaches talk to Schwisow and find out who has attended summer conditioning regularly, who has put forth great effort and who has made the greatest strides.
He keeps accurate attendance records and tracks progress with the goal to make the student-athletes more than just stronger and faster, but better overall competitors.
"The purpose of the summer is I want to be able to talk to each coach and let them know which kids have 'it,'" Schwisow said. "Because some kids want to go play, but if all you want to do is play and not invest anything in it then you're not going to get success. But if you're willing to invest in it, then when you go play it's going to be a heck of a lot harder to lose when you've done all this."