Basehor's annual July 4 celebration heightens patriotic spirit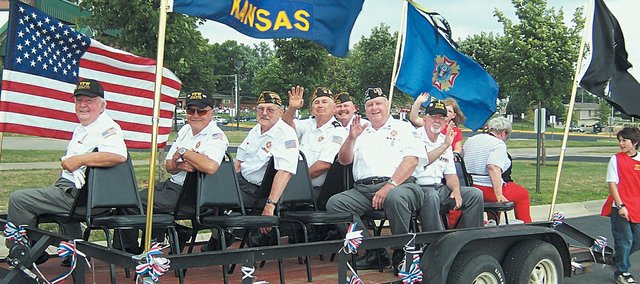 The annual Basehor Fourth of July celebration provided plenty of patriotic entertainment Saturday to residents, family and friends.
The Basehor Gold PRIDE group organized the holiday events, as it has done in previous years. Festivities, sponsored by the city, the Basehor Chamber of Commerce and Veterans of Foreign Wars Post 11499, began with concessions provided by the VFW. Shortly after, a parade rolled down 155th Street.
This was the first year Mayor Terry Hill was in parade as leader of the city, and he said it was a one-of-a-kind experience.
"I really enjoyed it," Hill said. "It was kind of surreal as my wife and I were there, and I was holding the flag. I'm already looking forward to it next year."
Other activities that evening included games for children and a performance by the Stranger Creek Band on the Basehor-Linwood High School football field.
Gold PRIDE member Chuck Wilderson said everything had gone well throughout the celebration.
"The parade was great, as it usually is, and we had a lot of good comments about the Stranger Creek Band," he said.
At the end of Stranger Creek's show, Chamber of Commerce President Gayle Runnels announced the winner of the Outstanding Citizen of the Year Award. Chamber board member and former city administrator Carl Slaugh was this year's surprised recipient. After congratulations were shared, Julian Espinoza took the microphone to name the VFW first-place winner in the parade.
"The VFW's participation this year was outstanding," Wilderson said. "They always contribute a lot to the (July 4) events, and they do a great job."
Members of the VFW performed the color guard and lined up for a gun salute. The wind whipped through the American flag, as Taps was played in remembrance of veterans who gave their lives for their country.
As the National Anthem, sung by Hannah Brown, came to a close, a large crowd gathered on the football field to witness one of the most well known July 4 traditions: a fireworks display. The show started at about 9 p.m., which was earlier than planned and before the sky had completely darkened. Rain clouds threatening overhead made it necessary to begin and end in time for people to get home before a possible downpour.
The evening was a success, though Wilderson said he was disappointed with the amount of people who attended.
"The parade turnout was the smallest we've had in years," he said. "I guess we needed to spread the word around sooner than we did this year."
This in mind, Wilderson is already thinking about the 2010 July 4 bash.
"We'll get everyone together in good time and make it bigger and better next year," he said.