Five questions: Sewer update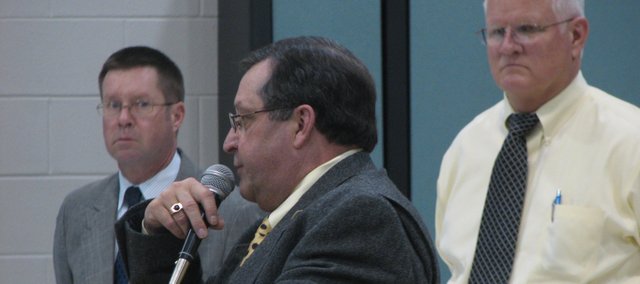 The Kansas Department of Health and Environment ordered earlier in the year for the overloaded Glenwood Estates sewer lagoons to be decommissioned. The sewer district must be reworked to be connected into Basehor's system. Heather Morgan, Leavenworth County administrator and public information officer, talks about the progress made on the project.
Q: At what stage in the Glenwood Sewer decommissioning is the county in the process of?
A: We are in the design stage of the project. Once the plans are prepared, we can then solicit bids for the construction part of the project.
Q: When will the project be completed?
A: We anticipate the project will be substantially complete by the summer of 2010.
Q: What is the project expected to cost Glenwood residents?
A: We won't know any information on the exact project costs until we receive the bids from the contractors.
Q: Officials in the Basehor-Linwood school district are concerned the sewer won't be ready for the new middle school's opening. What has the county done or what will it do to address these concerns?
A: We are in continual contact with the Basehor-Linwood school district, and they were aware of the construction schedule when they began their project. We are working diligently to meet our shared goal of being open at the beginning of the 2010 school year.
Q: Will additional public meetings take place in regard to the project?
A: We will have another public meeting sometime before the end of the summer.