Former city administrator named citizen of the year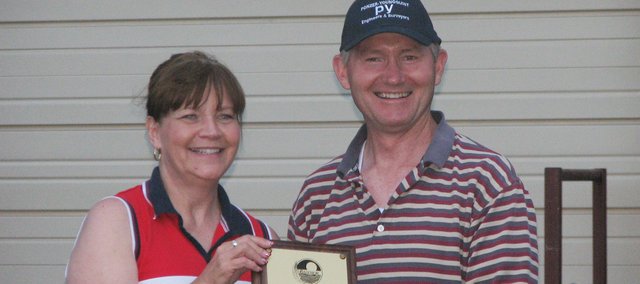 As Basehor Chamber of Commerce President Gayle Runnels called out his name, Carl Slaugh's face expressed complete surprise.
At Saturday's annual Fourth of July celebration, Slaugh, chamber board member and former Basehor city administrator, was announced as recipient of the 2009 Outstanding Citizen of the Year Award.
The honor had been well hidden from Slaugh, as he had no idea he was the selected recipient.
"I was really flabbergasted," Slaugh said. "My wife kept it from me very well."
Runnels said Slaugh was the choice Basehor resident in each nomination form the chamber received. Slaugh received the award for several reasons, Runnels said.
"He has done a lot of work for the community," Runnels said. "He helped the community not only as the city administrator but also with different organizations he was involved with."
One of the nomination forms said Slaugh had maintained a friendly, caring attitude throughout his service on the city staff.
"He was always out there, giving people pats on the back," Runnels read from the nomination form Saturday night. "Carl Slaugh has all the characteristics of an outstanding citizen," she said as she handed Slaugh his plaque.
Slaugh remains humble about the honor, saying he can think of many people in the city who deserve it more than he.
"I'm sure there's more qualified people for it, like Melanie Morris with all her work on the Dairy Days committee, or people at the library, or Chuck Wilderson and everything he does with Basehor PRIDE," he said. "Nevertheless, I'm very thankful for the award. I've certainly enjoyed all the functions and organizations I worked with in the city."