Madame Hatter's Tea Room open for business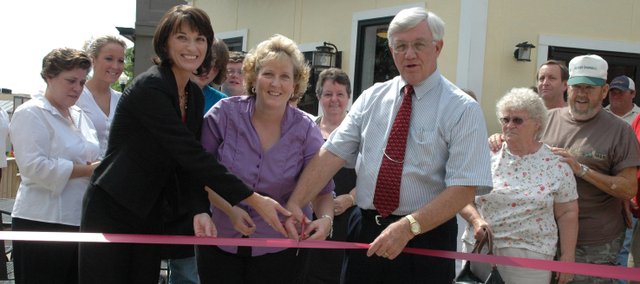 Madame Hatter's Tea Room has come to town, and at a ribbon cutting ceremony Tuesday morning, owner Bonnie Freeland shared her excitement about moving her business from downtown Eudora to downtown Bonner Springs with those who attended.
"I'm looking forward to doing business here with everybody and I'm ready to get it rollin'," Freeland said on the opening day of Madame Hatter's, 228 Oak St., before cutting a ribbon with the help of Mayor Clausie Smith and community and economic development director Marcia Ashford.
"What I'm so excited about is making all these new friends," she added.
Prior to the Bonner Springs move, Freeland owned and operated Madame Hatter's in downtown Eudora for almost five years, where it was ran out of a 19th century bank. Growing business demanded a larger establishment, however, and so to Bonner Springs it has come.
The new space offers a much larger dining room as well as a much larger and more modern kitchen area for Freeland and many of her family members, who help run the restaurant and tea room, to serve such items as flavorful tea, chicken salad sandwiches, quiche and dessert.
During its first lunch in Bonner Springs, Madame Hatter's was quite the popular place. Freeland said she served about 55 people between 11:30 a.m. and 2:30 p.m.
"I don't know that I've ever seen 55 on a Tuesday," Freeland said.
Not all those filling up the tables decked out in tablecloths of teacups and flowers were from Bonner Springs.
"It's the best chicken salad ever," said Sara Gault, from Salina, between mouthfuls of the croissant-wrapped sandwich. Gault has been patronizing Madame Hatter's since the first year it opened in Eudora. "And the coconut cream cake is fabulous."
Gault praised the new location, even though she had become accustomed to the old one. She and her friend Colean Seim, also from Salina, said they had only found out about the move that day when they had called to make reservations for that afternoon at the Eudora location. Since they were headed, with grandchildren in tow, to the Moon Marble Company anyway, they decided to check out the new digs.
"It's bigger. It'll seat a lot more people," Gault said. "And they have more room to display their teapots and everything. It's great. Now that it's here, we'll stop even more because it's right off the interstate."
While waiting for his lunch to arrive, Brad Harrington, of Bonner Springs, remarked on the perfect location for such a business.
"I think it'll tie in very well with the specialty shops downtown, and I'm really looking forward to it," Harrington said. "My 6-year-old little girl would love it."
Freeland, who only began moving everything over, with the help of her family, last Friday after closing up shop at 12:30 p.m., said she felt relieved that everything had been accomplished in time for the July 7 opening she had been advertising. She said the support she had already received from the city of Bonner Springs had been all the affirmation she could ask for.
"It's just overwhelming, the support from the other businesses and just from Marcia Ashford with the city," Freeland said. "It's wonderful. It's like nothing I've ever experienced running my business."
Madame Hatter's Tea Room will be open from 11 a.m. to 3 p.m. Tuesday through Saturday.
For reservations, or to schedule a special event, call (913) 422-8800. Reservations aren't required for lunch.