Sure-handed Schaake took 'Cats to the top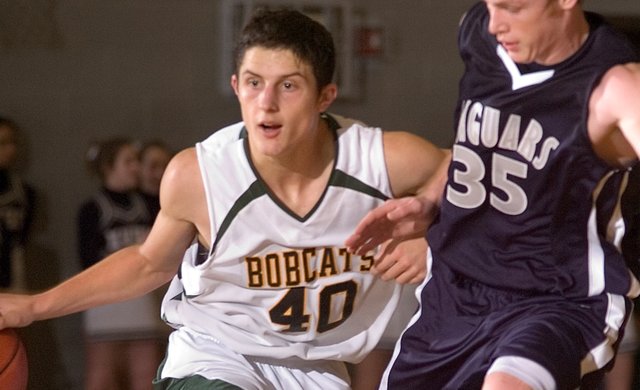 If you had asked Basehor-Linwood coach Mike McBride about Chandler Schaake's play midway through this basketball season, he sounded like a coach trying to get through to his senior leader.
Schaake was a player who made those around him better when he was at the top of his game. McBride understood that for the Bobcats to win, Schaake had to be willing to take charge.
Somewhere along the way, Schaake got the message. After four years in McBride's program, the senior played out the final chapter of his career the way that kids dream about.
Basehor-Linwood erased sub-state frustration from previous years with a championship. From there, the sixth-seed Bobcats made a Cinderella run to win the Class 4A state championship in Salina.
Ask McBride about Schaake now, and he speaks with a sense of pride.
"On the basketball side of it, he was more of a true basketball player. He understood the game, knew the game, knew what had to be done," McBride said. "The last 10 games he pretty much perfected that. It was one of those situations where it looked like it clicked. He had so much pressure, and he had to fit it into what we were trying to accomplish. After the Lansing game, we went on a roll."
The Bobcats didn't lose another game the rest of the season, rattling off 10 straight on their way to a state championship.
Schaake shot 76 percent from the foul line, 50 percent from the field and 42 percent from three-point range last season. He ranks in the top 10 for all-time scorers and is Basehor's all-time assists leader. He also ranks second in career steals.
In addition to the All-Kaw Valley League honors, Schaake was named to the Topeka Capital-Journal's Class 4A All-State Team.
He played four years of varsity basketball and football. In a lot of ways, Basehor-Linwood followed his lead throughout his career. He was the glue for the program, McBride said.
"That was probably the case most games in his career," McBride said. "He had a calming effect, and he played very well with a lot of energy. If he was playing with energy or he was lacking energy, we kind of followed his lead."
Schaake played with a composed style on the floor. He rarely showed emotion.
"He really prefers to show that he doesn't get rattled at all," McBride said. "To keep those emotions in check was his personality trait. At times, that was not great for him, bottling it up. Then as a senior, he learned to handle it, and it paid off."
Schaake agreed.
"Oh yeah, ever since freshman year when I was the point guard, I was supposed to be a leader on the floor," he said. "I never really stepped up and fulfilled that role until this year."
Schaake played four years of football and basketball at BLHS. He was a standout in both sports, and for all of his efforts he was selected as the Basehor-Linwood boys athlete of the year.
He was surprised to win the award, which was voted on by BLHS coaches. Other players had competed in three sports, and he was injured midway through football season.
He counts basketball season as the highlight of his career, specifically the state championship game.
"Yeah it was a highlight. We left our mark, so to speak," he said. "It was a blast. I think my No. 1 fan in the stands was my mom. She was always there. The whole town of Basehor would show up to the games."
At least one of Schaake's former coaches saw his future success coming.
When Schaake was a fifth-grader playing basketball, a coach approached his father, Mark Schaake.
He told him that his son would one day play in a state championship game.
At the time, Mark Schaake didn't think much about the conversation. He never told Chandler the story until after the team had won state.
Maybe the man saw potential, but he is probably smiling somewhere now.
"I thought dad was joking," Schaake said. "That is kind of eerie. He told me that after we won, which was a neat feeling."
Although Schaake's playing days are finished at BLHS, his time on the basketball court is not done. He plans to play basketball at the University of St. Mary next season.