Immune efficient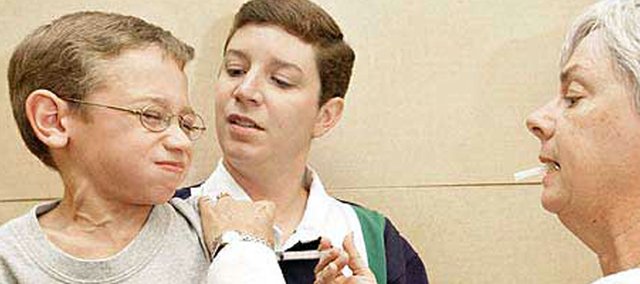 Nancy Tausz, director of disease containment with the Johnson County Health Department discusses new immunization requirements.
Q: What new immunizations are now required for children entering school?
A: Kindergarten-ninth grade are required to have the Hepatitis B series (three shots). First-ninth grade are required to have one Varicella vaccine (chickenpox). Kindergartners are required to have two Varicella vaccines (chickenpox).
Q: Do children who have already been through kindergarten need to get the new immunizations?
A: These immunizations apply to the student's grade level.
Q: Where should parents get their children immunized?
A: Either at their healthcare provider or the Health Department.
Q: Why were the immunizations added to the required list?
A: Varicella is a Vaccine Preventable Disease. Deaths continue to occur from Varicella. Prior to the licensing of the chickenpox vaccine in 1995, almost all persons in the United States had suffered from chickenpox by adulthood. Each year, the virus caused an estimated 4 million cases of chickenpox, 11,000 hospitalizations and 100-150 deaths. A highly contagious disease, chickenpox is usually mild but can be severe in some persons.
More than 2 billion persons worldwide have been infected with the hepatitis B virus at some time in their lives. Of these, 350 million are lifelong carriers of the disease and can transmit the virus to others. One million of these people die each year from liver disease and liver cancer. The number of new infections per year has declined from an average of 450,000 in the 1980s to about 80,000 in 1999. The greatest decline has occurred among children and adolescents due to routine hepatitis B vaccination
Q: Where should parents go to find a immunization schedule to keep their child on track?
A: The current schedule can be found at immunize.org or cdc.gov/vaccines.