Resources plentiful for adults making return to school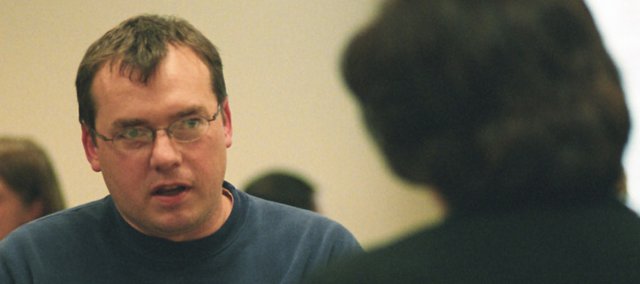 For adults going back to school for a secondary or graduate degree, awareness of the resources offered by their college is key.
Heading back to class years after receiving their first degree can be a daunting task for some adults, who haven't had to take a test or study a textbook since then. For those students, it is best to ensure they are familiar with the help their educational institution can offer, according to Paul Kyle, dean of student services at Johnson County Community College, and Annette Spates, program director for student success at the Kansas University Edwards campus.
The ease of transitioning into a college class environment may depend on the adult student's background, Kyle said.
"Especially if they used to have long lines and waited a long time to enroll when they were first in school," Kyle said.
Kyle and Spates said in this technological world, most adult students haven't shown many problems handling the technology required in classes today, and much of it is user-friendly.
Time management demands imposed by college courses also aren't much of a problem at KU-Edwards, Spates said, where the average student age is 29.
"Sometimes people can be fearful about coming back, but I think adults in general are better equipped to be students because they're used to the real world, keeping a schedule," Spates said. "Our nontraditional students, I think, are better equipped because they're so used to having a schedule and having to manage their time."
For those who need a refresher course on note-taking, resume writing and other student skills, Johnson County Community College offers tutors, math and reading resource labs, a career lab, counselors and advisors.
"We offer tips on how to study, how to take notes, how to read a textbook, because there can be an art to it and a skill to it," Kyle said.
At KU Edwards, Spates said the Student Success Department also worked to provide resources for students, whether they needed help with studying or stress management.
"Our whole staff really at they KU Edwards campus, they're aware of the needs and issues of the nontraditional student," Spates said.
Taking online classes could be a challenge for returning students, as well, Kyle said, though not necessarily because of the technology involved.
"Many students have in their mind that those classes are easier, but in fact you have to be very self-directed," Kyle said. "You have to spend a lot of time on your own, there is a lot you miss when you don't have the verbal and non-verbal direction you get in the classroom."
Both Spates and Kyle said any adult student returning to school would be well served to become familiar with the help the school can offer.
"I would say the biggest thing is to make sure they take orientation offerings, and most importantly get with a counselor, because they can kind of walk you through the issues and some anxieties that come with going back to school," Kyle said.
Spates said KU Edwards offers student information sessions quarterly, with the next one offered July 16.
"If someone is thinking about it, go ahead and RSVP to the info session and give us a call," she said. "Even if a prospective student just wants to stop by, there's always someone available to answer