Brownback urges
GOP

unity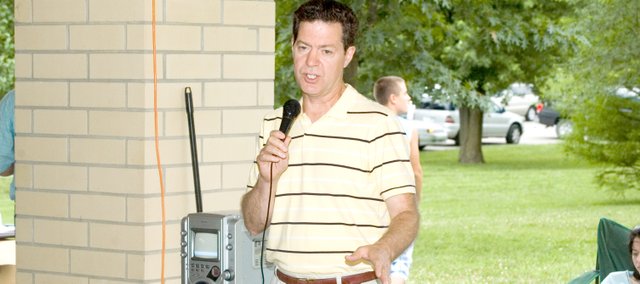 U.S. Sen. Sam Brownback called for party unity while speaking at a Leavenworth County Republican Party barbecue Saturday in Tonganoxie.
Brownback, presently the lone candidate for governor in the 2010 race, noted that in the past 50 years, of 11 Kansas governors, six have been Democrats in a predominately red state.
"If Republicans are fighting (each other), we can't win," Brownback said to more than 150 people at the event. "If Republicans aren't fighting, we can't lose."
Several Republican candidates joined Brownback at the function, including Todd Tiahrt, a current U.S. representative who is running for Brownback's soon-to-be vacant Senate seat, and Kris Kobach and J.R. Claeys, who are running for secretary of state.
Kobach is a former Kansas Republican Party chairman, while Claeys is a Salina businessman. Claeys said he wanted to "cut red tape" in Kansas if elected and outlined some of his principles: protecting the unborn, growing the number of jobs in the state and "getting Kansas out of this (economic) slump."
Kobach, noting he lived just 8 miles from Tonganoxie to the east, said he was running for secretary of state because he wanted to fight voter fraud. He spoke critically of the Association of Community Organizations for Reform Now, a grassroots community advocacy organization of low- and moderate-income people, and the election of Democrat Al Franken as U.S. senator from Minnesota. The Minnesota Supreme Court recently determined Franken the winner of a tightly contested November 2008 race against Republican incumbent Norm Coleman, a nearly eight-month saga complete with a recount.
Kobach told the group he would fight for the requirement of providing proof of citizenship at election booths. He said photo identification was required when boarding a plane or buying certain spray paints and medication. He wants the same when trying to combat voter fraud.
Tiahrt said he would fight for Kansas jobs if elected to the U.S. Senate.
Jerry Moran, Tiahrt's primary opponent, could not attend because of a previous engagement, but a Moran staffer was at the event.
A handful of other legislators who represent Leavenworth County, including U.S. Rep. Lynn Jenkins, spoke to the crowd. Jenkins said she was a proud member of the party of "no," adding she was saying no to "bad legislation."
She said the country's condition wasn't ideal when President Barack Obama took office, adding "I think Republicans spent too much." But Jenkins said she was concerned about the direction the Obama administration and Democrat-controlled Congress has gone in the last six months, "in charge of the whole kit and caboodle."
Leavenworth County Republican chairman John Bradford said he was impressed with the turnout for the picnic.
"I think it's fabulous," Bradford said. "Beyond any of my expectations."